Our Difference
More Than Your Average Dog Daycare & Boarding Services
At All American Pet Resorts, everything we do reflects our commitment to you and your best friend. That's why we provide more than ordinary dog daycare and boarding facilities. There are probably quite a few providers of daycare and boarding services in your area, and some may vary in pricing. But we don't believe you can put a price tag on peace of mind. Your dog is more than a pet, they are a beloved member of your family – and they deserve the best. Comfort, care, and compassion are at the forefront of our services, and our resorts offer premium amenities that reflect this commitment.
Here are a few ways in which we set ourselves apart from other dog boarding services:
24/7/365 Care

Dogs never feel abandoned and always have access to the care they deserve
Ensures safety and security

Crateless Boarding

Prioritizes comfort and treats your dog like family
Allows space for Pet Care Specialists to join in for a cuddle

Personalized Attention

Dogs feel loved and secure while you are away
Pet Care Specialists will step in for pet parents during their absence

Specially designed sanitation system

We follow strenuous sanitation guidelines. This provides an exceptionally clean and healthy stay, which guarantees comfort while dogs visit and after they return home with you

Webcams

Owners can stay connected to their pup while away
Transparency of top-notch care provides pet parents peace of mind
All American Pet Resorts offers VIP accommodations, including cozy blankets and pads, climate control, and indoor and outdoor play areas. When you can't be with your best friend, make sure they are with our Pet Care Specialists. We promise they'll have a good time – and it may even be tough to get them to come home.

24/7/365 Care
Personal Attention
24-Hour Webcam Access
Expansive Indoor/Outdoor Play Areas
Hygienic Food Preparation
Cage-Free Boarding
Specially Designed Sanitation System
HVAC & Air Exchange Purification System
Paw-Friendly Indoor & Outdoor Flooring
Raised Comfy Beds with Fleece Pad
Medication Administration
Noise Dampening Environment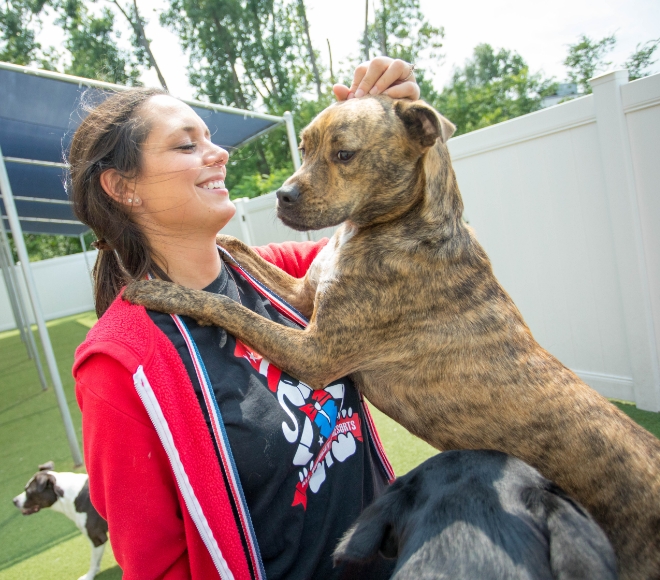 Never Worry While You're Away
You are irreplaceable to your dog, but at All American Pet Resorts, we can do a pretty good imitation. When you can't be with your pup, we'll give you the peace of mind you need so that you can enjoy a worry-free time away. Our resort is a second home for your pet where they will receive unsurpassed comfort and care, including personalized attention and more than a few belly rubs from our Pet Care Specialists. Enjoy your time away, because your pet will certainly enjoy theirs.