Our Services
Unsurpassed Care So You'll Never Have to Worry
Since 2005, All American Pet Resorts has been a home away from home for pets who need accommodations while their parents are away. We understand how difficult it can be for parents to be away from their pets – and for pets to be away from their parents – and provide the loving, attentive care they deserve.
All American Pet Resorts offers a variety of premium services. While boarding is the core service that our resorts provide for their clients, as the years passed, and the pet care industry changed, so too have our services. Across our franchises, we now provide pet boarding, pet daycare, and pet grooming.
Pet Boarding
For many pet owners, leaving their pet in the care of someone else is a stressful experience. Our professional Pet Care Specialists do everything to make All American Pet Resorts feel like a home away from home for our guests. Whether they need overnight, weekend, holiday, or extended care, all pets will enjoy supervised play with their friends and nights of peaceful sleep. At All American Pet Resorts, pets will enjoy clean, fresh bedding, high-quality, nutrition based, digestible diet, and premium care.
Pet Daycare
Dog daycare should be more than just a place to leave pets when owners are unable to be with them. At All American Pet Resorts, we treat pets to fun-filled days of socialization and interaction with other dogs – and plenty of exercise. All of our facilities have spacious indoor/outdoor playrooms that are fully supervised, with the health, safety, and enjoyment of our guests in mind. Pets are grouped for daycare by breed, size, age, and play style to ensure the ultimate experience for all pets. Some of our locations offer Private Play and other services, so contact your local resort to learn about their specific services.
Pet Grooming
Grooming is critical for the overall health and well-being of your pet, which is why All American Pet Resorts locations provide services such as bathing, haircuts, nail trimming, teeth brushing, brush-outs, and more! An important benefit of regular grooming is that the extra handling and inspection of the pet allows for early detection of various signs of illness. Contact your local resort to learn about their specific services.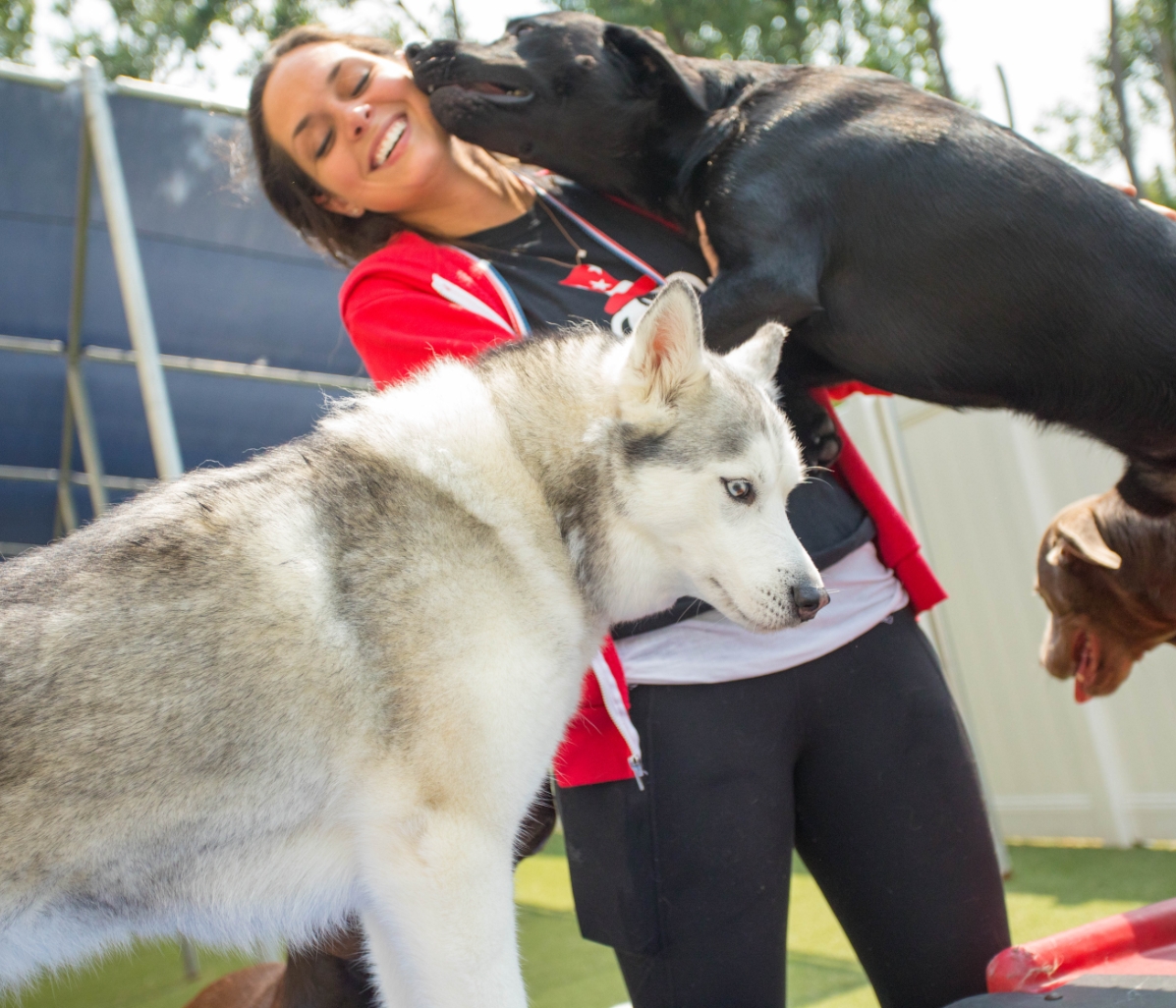 The All American Difference
Separation Without the Anxiety
24/7/365 Care

Feel confident that your pup is safe and secure and has continual access to the care they deserve.

Cage-Free Boarding

Take heart in knowing that your dog has a cozy place to sleep and will be treated like family.

Personal Attention

Never worry while you're away! Our Pet Care Specialists step in to ensure your dog feels loved and secure.

Specialized Sanitation

Relax knowing that we use advanced cleaning processes to guarantee a healthy, comfortable stay.

Webcams

Gain peace of mind by staying connected to your pup and witnessing our top-notch care - no matter where you are.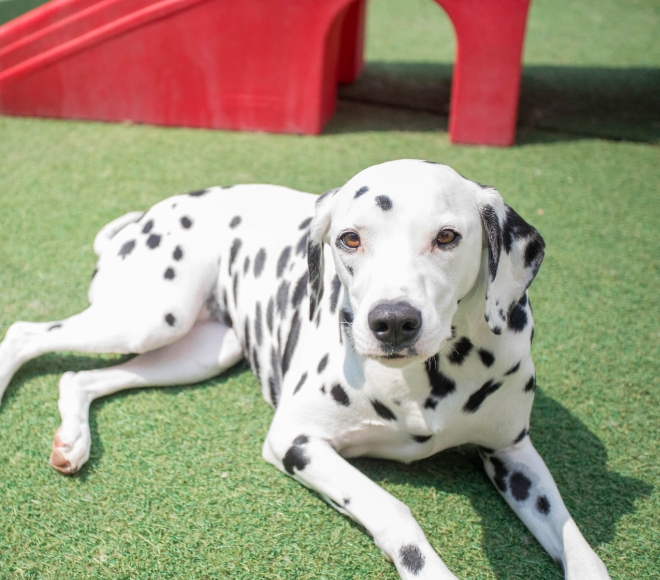 The Perfect Balance of Rest & Play
Some of our pet parents ask us about all-day play. At All American Pet Resorts, we want to make sure your pet leaves here tired, but not exhausted. That's why we provide them with several scheduled play times each day with plenty of rest time in between. So while we don't offer all-day play, your dog will have more than enough time to play with others, yet will be able to enjoy some rest and relaxation as well – like a true resort experience.
All American Sets the Standard!
Caring for pets isn't just something we do – it's what we are passionate about. Our Pet Care Specialists want to care for your loved ones while you're away. We are so warm and welcoming to our guests, you may be surprised by how quickly your pup feels at home at our resort. We offer complimentary tours of our facilities to allow you to see what our resorts are like before making any commitments, and we also offer complimentary evaluations to help us better get to know your dog before their stay. This will help us ensure an optimal experience at our resort.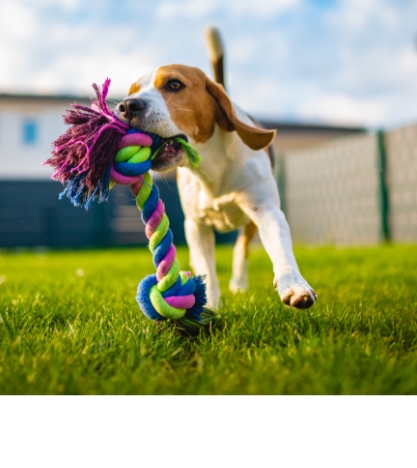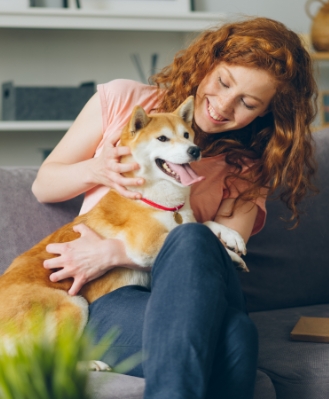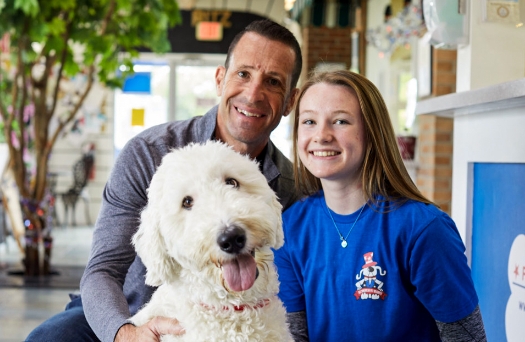 If Your Dog Can't Be With You,
Make Sure

They're With Us
"I just wanted to give a shout-out to the whole team there about how happy Drake and I are with your services and care. Everyone has been so polite, caring, enthusiastic, and professional in every way. I hit the jackpot with you!"

Mary

"This place is awesome! The staff is super nice and I know my dog is in good hands when I leave him there for daycare. The facility is super clean and my dog ALWAYS comes home tired!"

Jessica H. All American Pet Resorts Shelby Township

"We highly recommend All American for anyone looking for a place for their dog to be kept. We no longer worry about where to put our dog when on vacation, and will surely book All American Pet Resorts of North Brunswick when we go on vacation in the future."

Anne Marie & Eric Peters All American Pet Resorts North Brunswick