About Our Dog Daycare & Boarding
Peace of Mind Doesn't Have a Price Tag
All American Pet Resorts is an all-inclusive, upscale dog boarding and daycare resort that doesn't just meet the standard in premium dog care – we set it. For over 18 years, we've been giving pet parents the peace of mind they need when they can't be with their furry family members. Whether you're away for a few hours or a few days, you can rest assured that your pet will be treated as part of our family. At All American Pet Resorts, we care because you care and we want provide the best to care for your best friend.
Our services include:
Dog Boarding
Dog Daycare
Dog Grooming
You are irreplaceable to your dog, but at All American Pet Resorts, we can do a pretty good imitation. Our resort is a second home for your pet where they will receive unsurpassed comfort and care, including personalized attention and more than a few belly rubs from our Pet Care Specialists. Enjoy your time away, because your pet will certainly enjoy theirs.
Safe, Secure, & Cozy Accommodations
Our resorts offer an all-suite environment free of cages and crates. Our facilities provide a vacation for your pet, where they will have the chance to run and play while also enjoying some much-deserved rest and relaxation. Our indoor and outdoor play areas have floors with protective coverings that will protect your dog's joints and muscles, and we have webcams installed that will allow you to peek in on them from wherever you may be using your smart device.
Unlike most pet care facilities, our resorts are staffed 24/7, 365 days a year, so your pet will never be alone, and their safety and well-being will always be our top priority. Our facilities are also equipped with state-of-the-art air exchange systems, patented antimicrobial surface treatments, and custom sanitation systems designed to minimize the spread of common germs and bacteria. No matter how long your dog's stay, they'll be kept clean, healthy, and, of course, pampered!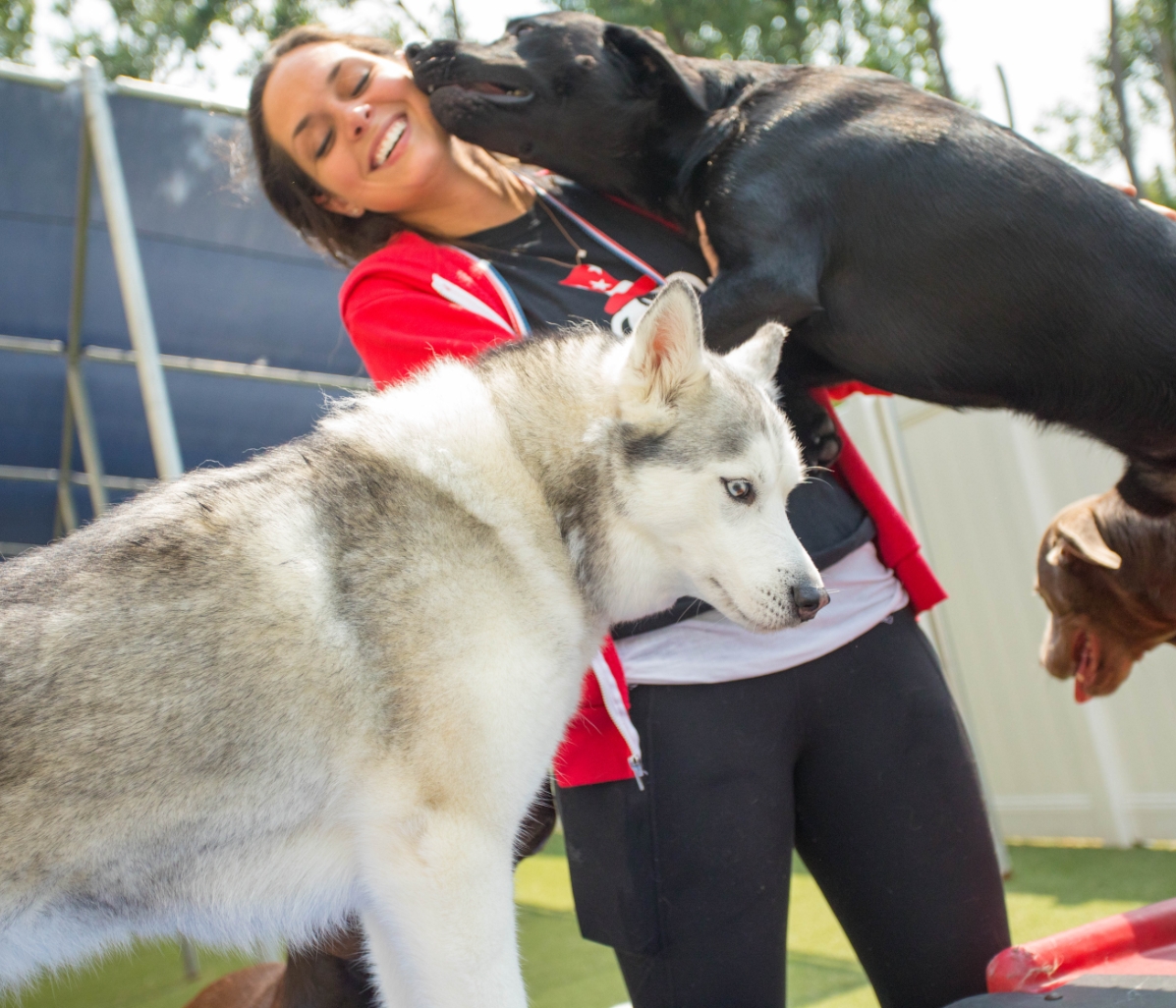 The All American Difference
Separation Without the Anxiety
24/7/365 Care

Feel confident that your pup is safe and secure and has continual access to the care they deserve.

Cage-Free Boarding

Take heart in knowing that your dog has a cozy place to sleep and will be treated like family.

Personal Attention

Never worry while you're away! Our Pet Care Specialists step in to ensure your dog feels loved and secure.

Specialized Sanitation

Relax knowing that we use advanced cleaning processes to guarantee a healthy, comfortable stay.

Webcams

Gain peace of mind by staying connected to your pup and witnessing our top-notch care - no matter where you are.
We Set the Standard, So Book a Stay Today!
You may have multiple options when it comes to boarding your dog, yet not all daycare and boarding services are created equally. Few, if any, offer the level of care that we do. All American Pet Resorts is so much more than just a daycare or boarding service. We are a vacation for your dog, the perfect home away from home where they can be spoiled while they're away from their parents. We offer everything you could hope for and then some. From pups to seniors, all ages and all stages, we can't wait to welcome your family into our resort.