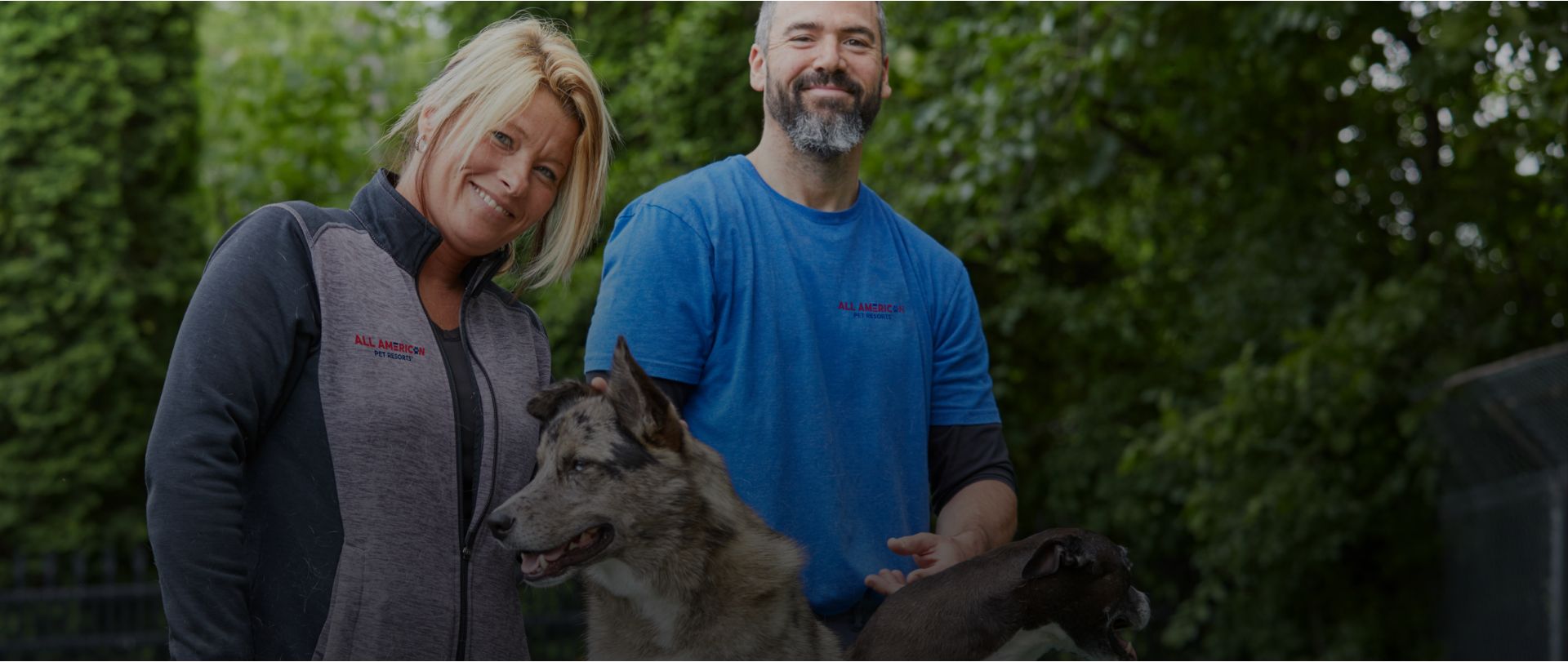 North Brunswick Dog Daycare & Boarding 24/7/365 Never worry
while you're away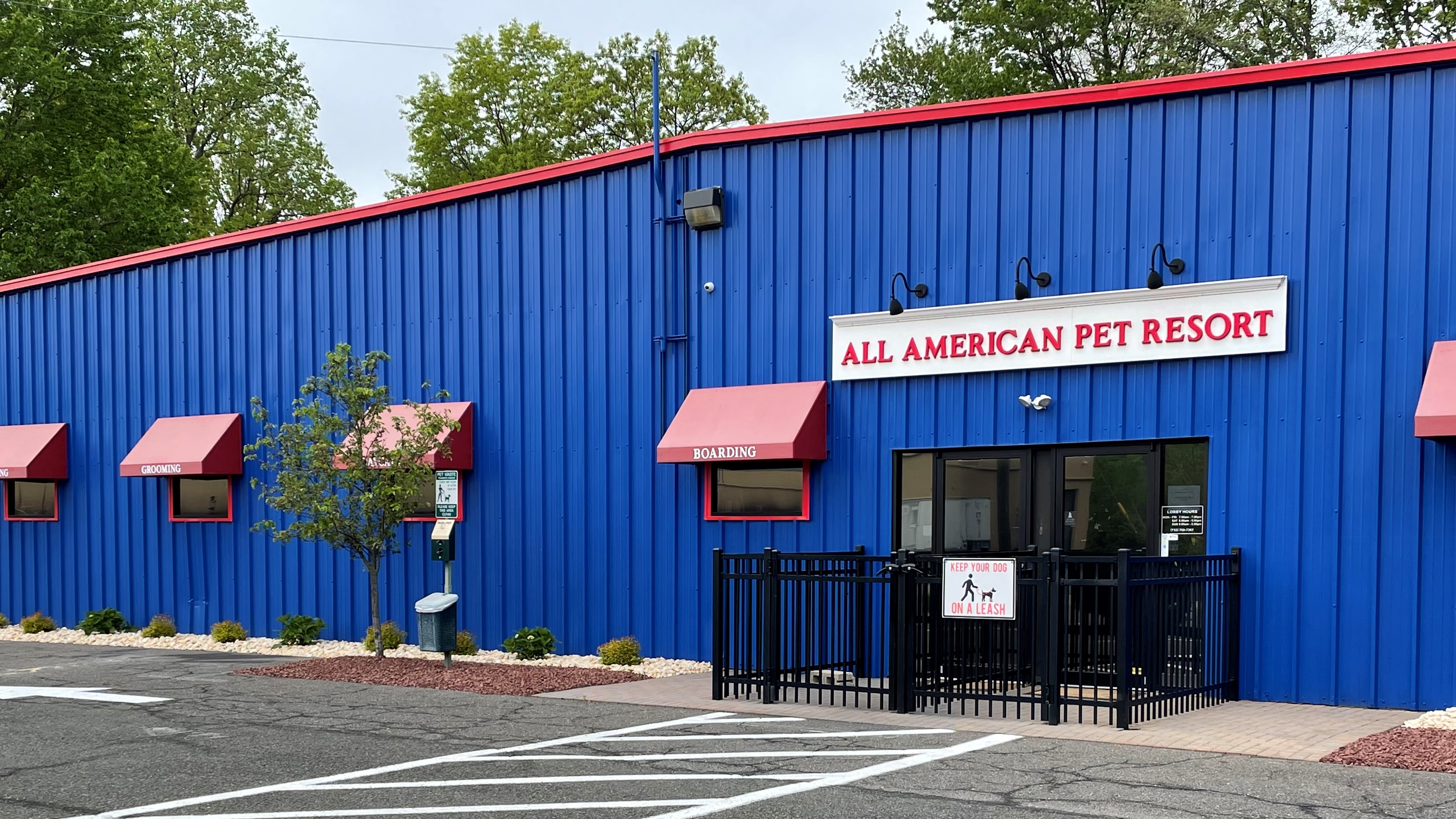 (732) 314-7272
Lobby Hours:
8:00 AM - 6:00 PM
View All Lobby Hours
All American Pet Resorts North Brunswick
Lobby Hours
| | | |
| --- | --- | --- |
| Monday | 7:00 AM - 7:00 PM | |
| Tuesday | 7:00 AM - 7:00 PM | |
| Wednesday | 7:00 AM - 7:00 PM | |
| Thursday | 7:00 AM - 7:00 PM | |
| Friday | 7:00 AM - 7:00 PM | |
| Saturday | 8:00 AM - 6:00 PM | |
| Sunday | 8:00 AM - 6:00 PM | |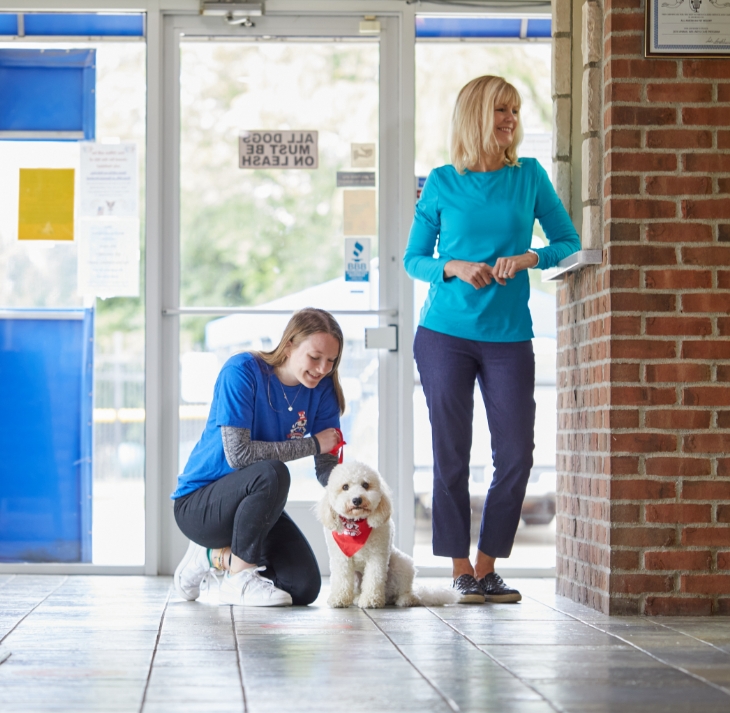 Dog Daycare & Boarding Services in North Brunswick
Comfort, Care & Communication
Your dog is more than a best friend – they are a beloved member of your family. So it's no surprise that it's tough to be apart from them. Whether it's a day or a week, you'll be no stranger to some separation anxiety. Yet when you can't be with your pup, make sure they're with All American Pet Resorts North Brunswick. We are a pet care company that prioritizes their comfort and your peace of mind.
Our North Brunswick dog boarding and daycare service is second to none. In fact, we have redefined the way pet parents see these services. As pet parents ourselves, we believe that our furry family deserve to be pampered and spoiled when we can't be with them. And at our resort, that's exactly what we do. We skip the cages and crates and instead opt for cozy suites with raised beds. Our facility is climate-controlled and our Pet Care Specialists supervise play to ensure the safety of all our guests. We also make sure your pup balances their play with enough rest and relaxation – as should be expected at a resort. We don't doubt that no one loves your dog as much as you do, but boy do we sure come close.
If you're ready to book your stay, reach out to our North Brunswick dog boarding and daycare team today at (732) 314-7272 or request a reservation online.
A Step Above the Rest
All American Pet Resorts North Brunswick is a locally owned and operated resort backed by a nationally respected brand with over 18 years of experience. We aren't the only choice for pet care services in North Brunswick, but we set the standard. Many daycare and boarding services provide the bare minimum and are more of a last resort for pet parents who need temporary accommodations. Our North Brunswick doggy day care resort is more like a vacation for your pet.
Our premium dog boarding and doggy day care amenities include:
24/7 on-site staff and care
Safe, secure, and sanitized facilities
High-quality, nutrition based, digestible diet
Individualized attention from our Pet Care Specialists
Indoor and outdoor play areas
24-hour webcam access for pet parents
For added health and safety, we also offer a state-of-the-art air purification and exchange HVAC system. Our North Brunswick pet resort also provides dog grooming services and can schedule them during their daycare or boarding stay. We'll return your pup looking even better than when they arrived.
Free Tours & Complimentary Evaluations
We encourage everyone to visit our facility. Except from Memorial Day to Labor Day and during busy holiday times, tours are given 7 days a week. Due to the number of guests coming and going on a daily basis, tours are given, without appointments, from 10:30am to 1:30pm, Monday to Friday. We want to be able to devote our full attention and these are the days and times that allow for the least interruptions.
We highly recommend you contact us in advance if you would like to visit us during alternate days and times. We are happy to show you our facility and answer any questions you may have. We highly recommend you do not bring your dog for the tour, as lots of other doggies are coming through the lobby. We know you'll like what you see, and after the tour you can set your dog up for a complimentary evaluation.
Request a reservation today and reach out to us at (732) 314-7272! Our North Brunswick pet care team looks forward to meeting you and your pup!
Continue ReadingRead Less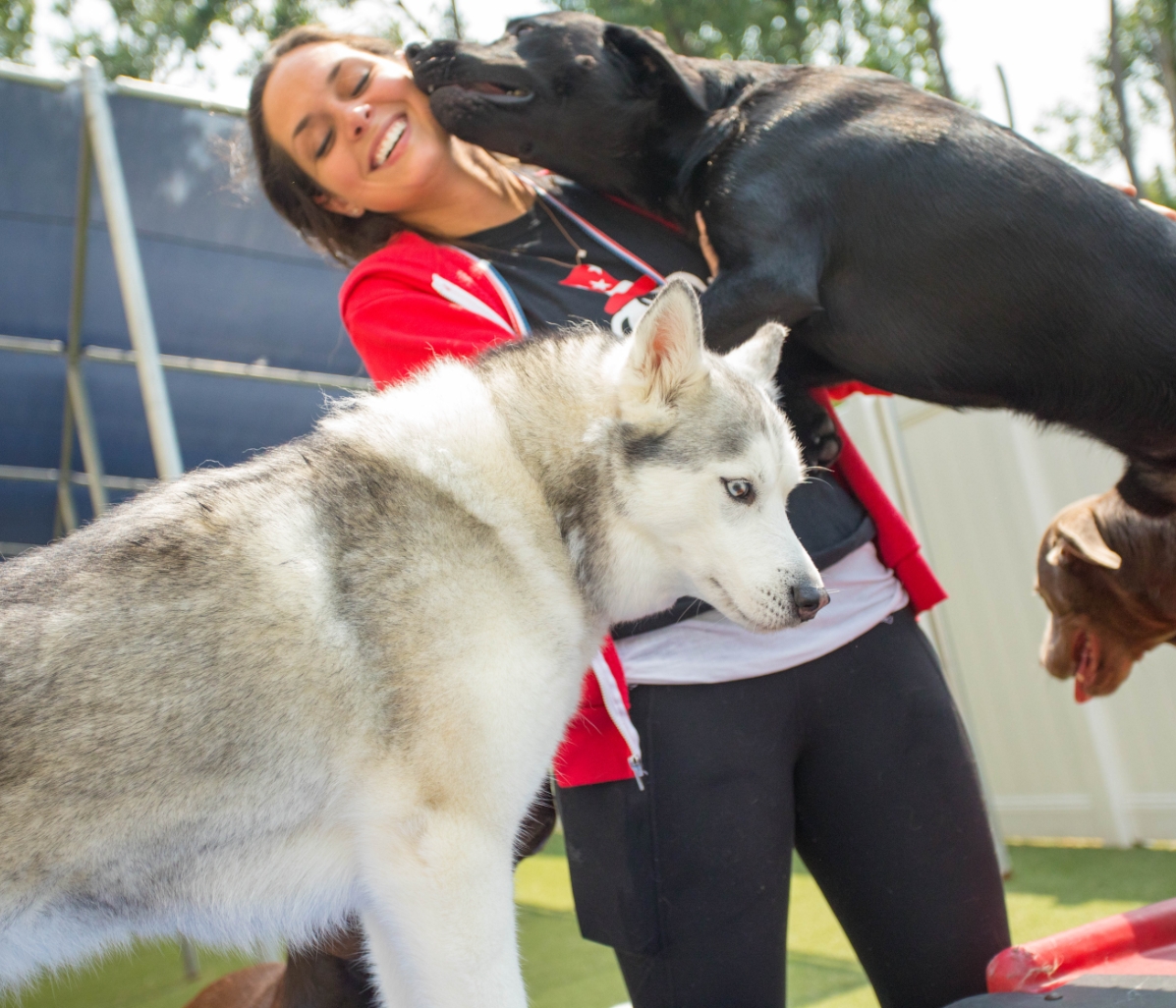 The All American Difference
Separation Without the Anxiety
24/7/365 Care

Feel confident that your pup is safe and secure and has continual access to the care they deserve.

Cage-Free Boarding

Take heart in knowing that your dog has a cozy place to sleep and will be treated like family.

Personal Attention

Never worry while you're away! Our Pet Care Specialists step in to ensure your dog feels loved and secure.

Specialized Sanitation

Relax knowing that we use advanced cleaning processes to guarantee a healthy, comfortable stay.

Webcams

Gain peace of mind by staying connected to your pup and witnessing our top-notch care - no matter where you are.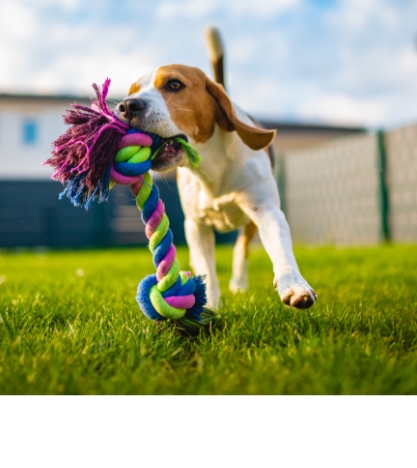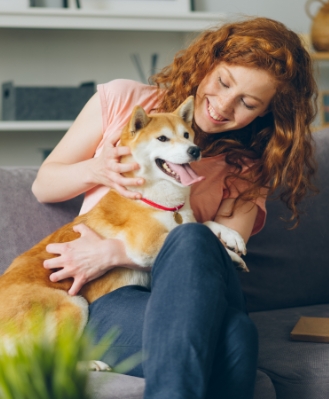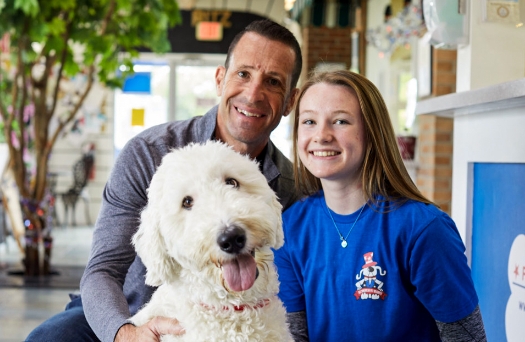 If Your Dog Can't Be With You,
Make Sure

They're With Us
"I just wanted to tell you thank you so much for taking care of our puppy, Alaya with kind care today. Glenn, I really appreciate your kind sincere care. Also I appreciate your staff who was holding him. It was very nice and kind. I will bring him again"

Takako

"We highly recommend All American for anyone looking for a place for their dog to be kept. We no longer worry about where to put our dog when on vacation, and will surely book All American Pet Resorts of North Brunswick when we go on vacation in the future."

Anne Marie & Eric Peters
Setting the Standard For
Premium Dog Care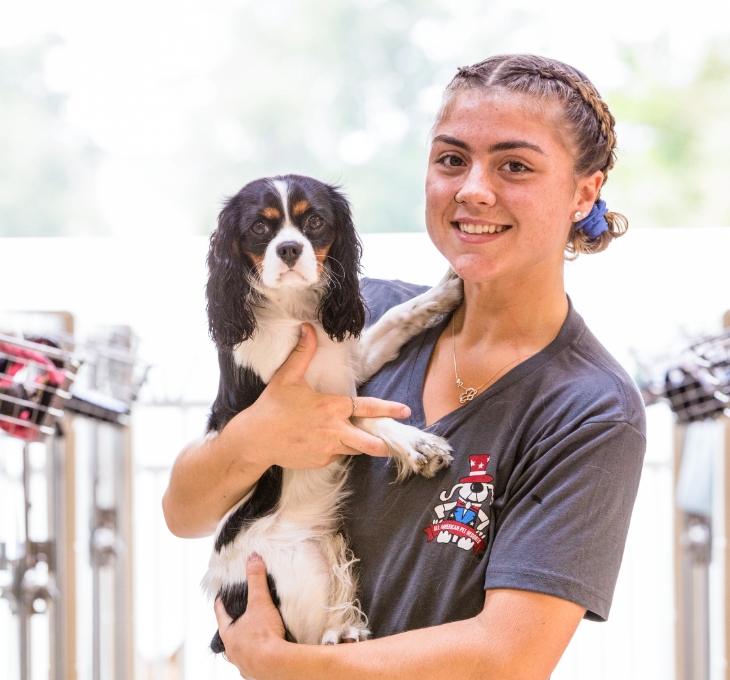 All American Pet Resorts North Brunswick is proud to bring premium pet care services to North Brunswick and the surrounding areas. Whether you need assistance for an afternoon, overnight, or longer, our doggy daycare specialists are here to help. We proudly serve the following areas:
Milltown/Spotswood
Highland Park/New Brunswick
Jamesburg/Monroe/Princeton
About North Brunswick
North Brunswick was incorporated in 1798 after European settlers from France and The Netherlands acquired the land from the Lenape Native Americans in 1772. Home to 41,841 people today, North Brunswick is a vibrant community known for the North Brunswick Youth Sports Festival, National Night Out Block Party, annual heritage day, and other community-building events. Although the town is challenged by suburban sprawl, efforts to expand and modernize public transportation infrastructure help bring this community together. We're proud to serve members of this community with the services they need.
Travel without worry when your pet is with our North Brunswick Pet Care Specialists. Request a reservation today!