FAQ - All American Pet Resorts Canton
What is All American Pet Resorts Canton?
All American Pet Resorts Canton is a luxury pet resort in Canton, Michigan that offers boarding, daycare, and grooming services for dogs.
How do I make a reservation?
You can contact us about reservations online or by calling us at (734) 280-3507. We recommend making a reservation in advance to ensure availability.
What are the Vaccine requirements for boarding and daycare?
Rabies vaccinations are necessary for dogs aged four months and older, as are distemper vaccinations (DHLPP or DHPP) and Bordetella vaccinations. To maintain your dog's health, they should be up-to-date on all required vaccines, with vaccination expiration dates determined by your veterinarian. If your vet recommends a Bordetella vaccine every six months, adhere to that schedule. Furthermore, consistent flea and tick prevention is a must. Please call for details about any additional vaccines that may be necessary. If it's your dog's first Bordetella vaccination, it should be administered at least 72 hours before boarding, although two weeks prior is ideal.
Will my dog be on camera during their stay?
While not all of our suites are visible on camera, advanced bookings may secure your dog a suite with camera access, subject to availability. If you specifically want a suite with dedicated camera coverage, please request it during your reservation. Rest assured, our indoor and outdoor play areas are continuously monitored by cameras.
Do All American Pet Resorts provide food and do you allow outside food to be brought in?
As a part of our boarding and daycare package, All American Pet Resorts Canton offers a premium, nutritionally balanced diet that is easy to digest. We strongly encourage all our guests to use this food, unless a guest has specific dietary needs due to a sensitive stomach or is on a prescription diet. If you prefer to bring your own food from home, we request that it is portioned per meal. Please note that an additional fee may apply if food is brought in bulk or large containers. While you are welcome to bring treats, we kindly request that rawhides not be included in your pet's belongings.
What kind of play space do you have?
At All American Pet Resorts Canton we prioritize the safety and security of your pets in our indoor and outdoor play areas. Our indoor spaces feature robust epoxy-coated or resilient rubber flooring, ensuring a safe and durable environment for dog play. Our outdoor play zones are equipped with soft and resilient sports turf, enclosed by fencing with privacy screens. To maintain a clean and hygienic environment, each play surface undergoes disinfection several times a day.
Do you have accommodations for senior pets?
Certainly! If your pets require any special care or accommodations, please do let us know. We are dedicated to ensuring their stay is as comfortable as possible. We have a variety of bedding options available to provide a softer resting place, and we also offer raised feeders to make food and water access more convenient for them.
DO YOU OFFER GROOMING SERVICES?
Yes, we offer a variety of grooming services for dogs. You can schedule a grooming appointment when you make a reservation or by calling us at (734) 280-3507.
How do I contact All American Pet Resorts Canton?
Ready to provide your beloved furry friend with a safe and comfortable boarding experience in Canton? You can contact us by phone at (734) 280-3507 or reach out online to book their stay.
For more information about our services and pricing, please visit our website.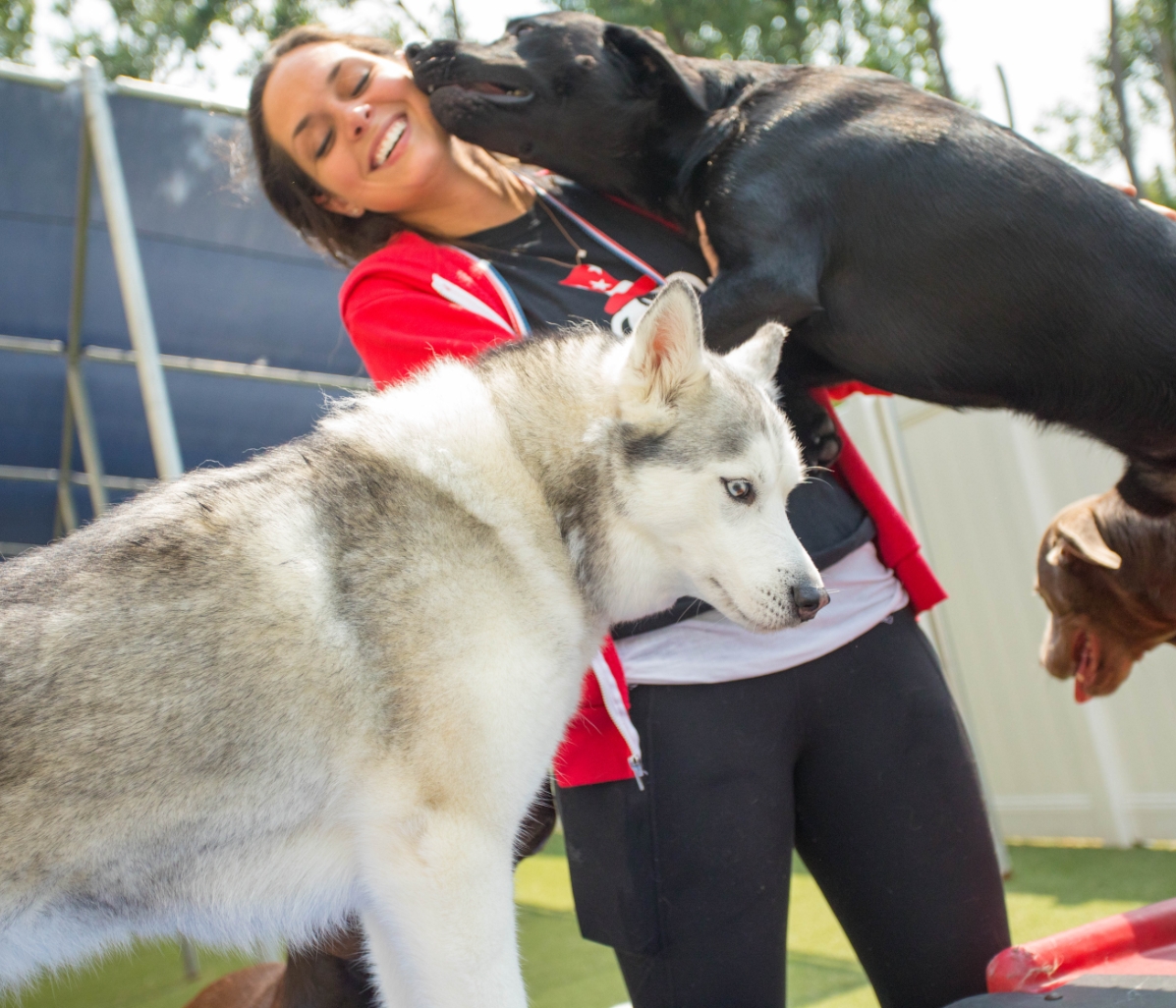 The All American Difference
Separation Without the Anxiety
24/7/365 Care

Feel confident that your pup is safe and secure and has continual access to the care they deserve.

Cage-Free Boarding

Take heart in knowing that your dog has a cozy place to sleep and will be treated like family.

Personal Attention

Never worry while you're away! Our Pet Care Specialists step in to ensure your dog feels loved and secure.

Specialized Sanitation

Relax knowing that we use advanced cleaning processes to guarantee a healthy, comfortable stay.

Webcams

Gain peace of mind by staying connected to your pup and witnessing our top-notch care - no matter where you are.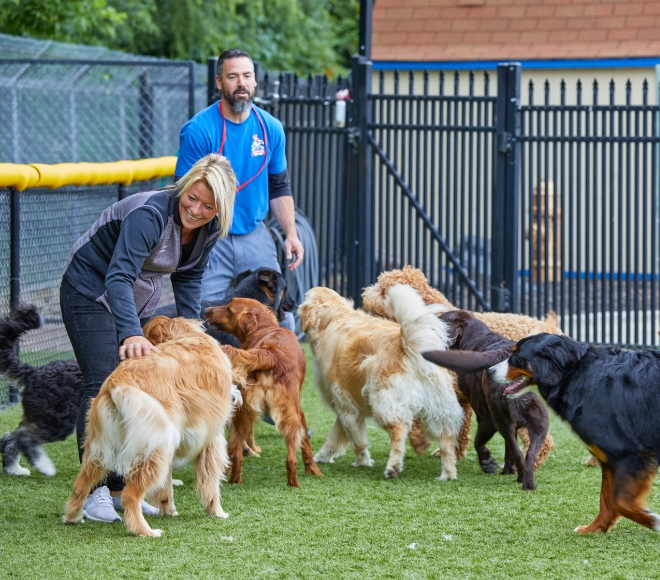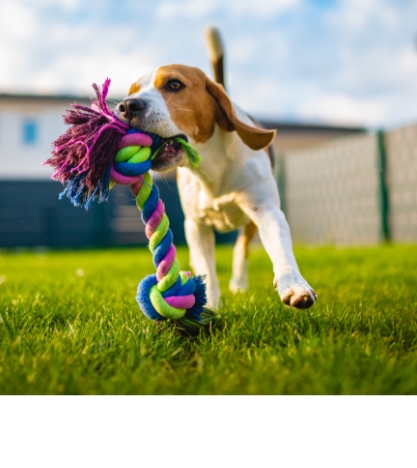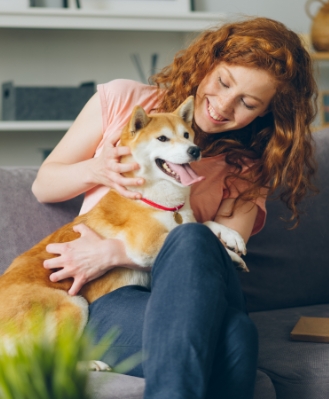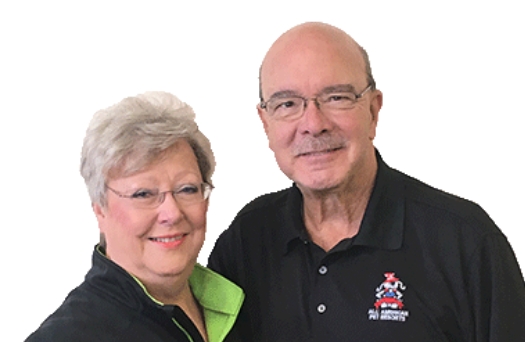 If Your Dog Can't Be With You,
Make Sure

They're With Us
"I just wanted to give a shout-out to the whole team there about how happy Drake and I are with your services and care. Everyone has been so polite, caring, enthusiastic, and professional in every way. I hit the jackpot with you!"

Mary

"This place is awesome! The staff is super nice and I know my dog is in good hands when I leave him there for daycare. The facility is super clean and my dog ALWAYS comes home tired!"

Jessica H. All American Pet Resorts Shelby Township

"We highly recommend All American for anyone looking for a place for their dog to be kept. We no longer worry about where to put our dog when on vacation, and will surely book All American Pet Resorts of North Brunswick when we go on vacation in the future."

Anne Marie & Eric Peters All American Pet Resorts North Brunswick