Dog Daycare Services in Fort Myers
Premium doggy day care Near You
Are you searching for a dependable and trustworthy dog daycare service in Fort Myers? Look no further than All American Pet Resorts! Whether you're busy with work, attending an event, or simply need someone to take care of your beloved furry companion, we've got you covered!
Our premium state-of-the-art dog facility at All American Pet Resorts Fort Myers goes above and beyond, providing all-suite environment and offering ample opportunities for play, relaxation, and even webcams for remote monitoring so you can check in on your pup. Rest assured knowing that our Fort Myers resorts are also fully staffed round the clock, every day of the year, ensuring your pet is never alone and their safety and happiness remain our utmost concern.
We believe you pup deserves to be pampered and indulged, especially when they can't be by your side. Why settle for anything less? Count on All American Pet Resorts for exceptional doggy daycare services today!
Call us at (239) 688-2529 or contact us online to learn more about our doggy daycare near you today!
Flexible Accommodations for Busy Pet Parents
Life can get hectic, and when it does, you may not have as much time to spend with your pup. Yet they are so much more than a friend – they are a loyal family member who deserves nothing but the best. That's why you should spoil them at All American Pet Resorts Fort Myers. We are a provider of premium pet care services and doggy daycare in Fort Myers and the surrounding area and we will pamper them while you're away.
Whether you are looking for a half-day or full-day of care, we can accommodate the various needs of busy pet parents. We are a home away from home where your pup will receive unsurpassed care and attention they lack when they're without you.
Experience the Difference At our Fort Myers Doggy Daycare
Looking for a dog daycare in Fort Myers that offers more than the rest? Look no further than our top-of-the-line facility at All American Pet Resorts Fort Myers! Unlike other places, we skip the cages and instead offer luxurious, cozy suites for your furry friend to relax and unwind in between playtime with their furry peers.
At our local dog daycare, your pup can run, roll and romp around with other dogs in their playgroup. But if they prefer one-on-one time with our experienced dog care specialists, we've got you covered there too!
Choose us for a fun-filled and stress-free doggy daycare experience in Fort Myers - your pup will thank you for it!
Additional amenities our resort provides include:
24/7 on-site staff and care
One-on-one playtime with our Pet Care Specialists
Indoor and outdoor play areas
Safe and secure facilities
Unlimited webcam access
Custom sanitization system
Climate-controlled to ensure maximum comfort for your pup
Space is limited, so book your pup's stay at All American Pet Resorts Fort Myers by reaching out to us at (239) 688-2529today!
All American Pet Resorts Fort Myers, FL
All American Pet Resorts Fort Myers

Lobby Hours

| | | |
| --- | --- | --- |
| Monday | Open 24 Hours | For Pet Drop Off & Pickup |
| Tuesday | Open 24 Hours | For Pet Drop Off & Pickup |
| Wednesday | Open 24 Hours | For Pet Drop Off & Pickup |
| Thursday | Open 24 Hours | For Pet Drop Off & Pickup |
| Friday | Open 24 Hours | For Pet Drop Off & Pickup |
| Saturday | Open 24 Hours | For Pet Drop Off & Pickup |
| Sunday | Open 24 Hours | For Pet Drop Off & Pickup |
Single Dog
Price
Full Day

$40.00

10 Full Days Package

$360.00

30 Full Days

$1,080.00

Half Day

$33.00
Two Dogs
Price
Full Day

$75.00

Half Day

$61.00
Additional Daycare Services
Puppy Care

Senior Dog Care

$15.00

Dog Private Time

$20.00

Group Play

Medication Administration

Pills, liquids and supplements

Insulin Injections

$10.00

Refrigerated food

Day/pet

$8.00

$10.00

Cap Star

For pets entering the resort with fleas

$50.00

After Hours Drop-Off

Before Hours Drop-Off

After Hours Pick-Up

Before Hours Pick-Up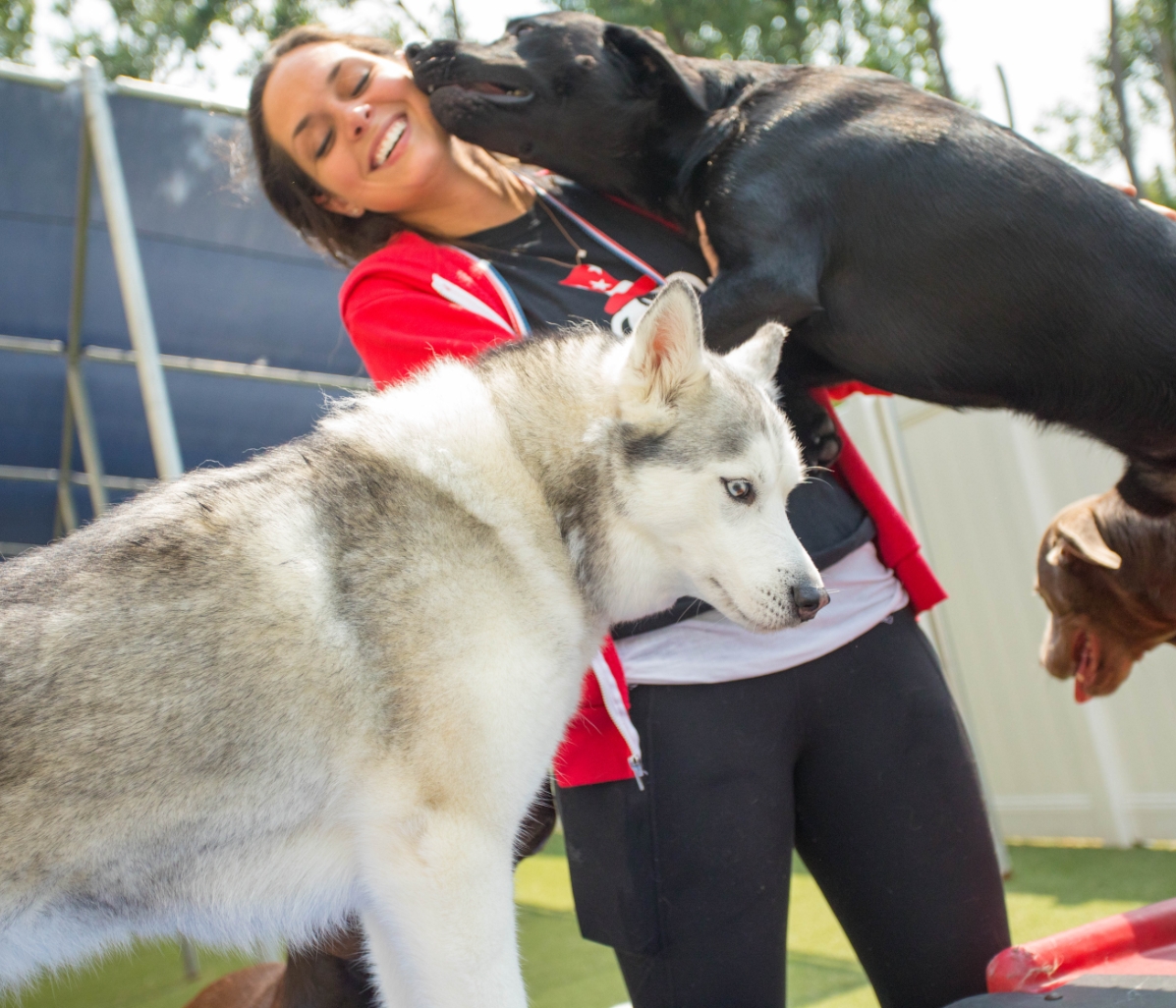 The All American Difference
Separation Without the Anxiety
24/7/365 Care

Feel confident that your pup is safe and secure and has continual access to the care they deserve.

Cage-Free Boarding

Take heart in knowing that your dog has a cozy place to sleep and will be treated like family.

Personal Attention

Never worry while you're away! Our Pet Care Specialists step in to ensure your dog feels loved and secure.

Specialized Sanitation

Relax knowing that we use advanced cleaning processes to guarantee a healthy, comfortable stay.

Webcams

Gain peace of mind by staying connected to your pup and witnessing our top-notch care - no matter where you are.
All American doesn't just meet the standard in doggy daycare services in Fort Myers – we set it. Our team is committed to giving you peace of mind so that you can focus on your day and not worry about your dog. We offer full-day (12 hours) and half-day (6 hours) daycare options and discounts for multiple dogs. And since we are a resort, we make sure our guests enjoy the perfect balance of rest and play. We want them to be tired but not exhausted when you pick them up.
To learn more about our resort, schedule your free tour. We'll show you around, answer questions, and ease any worries you may have. We also offer pet evaluations to learn a bit about your dog prior to their stay.
A Paw Above the Rest
Exercise and socialization are crucial to the health and happiness of your pup. So why not let them run, romp, and jump with other dogs when they're not with you? Our resort is more than just a temporary stay for your dog – we offer premium amenities that will make it hard for you to get them to return home. We do not put dogs in crates or cages, rather, we let them rest and unwind in cozy private suites with raised beds.
Request your reservation for doggy daycare in Fort Myers today! When you can't be with your best friend, make sure they're with All American Pet Resorts Fort Myers.