Pet Resort Bonita Springs FL
When you're working or taking a vacation, why not let your dog enjoy our luxurious, state-of-the-art facility? At All American Pet Resort of Fort Myers, our experienced and highly trained staff look forward to spending time with your dog! Each guest will enjoy being active and socializing during their visit! Our facility is equipped with an air purification system, custom sanitation systems and special treatments to keep your dog safe and healthy while visiting! We are open 24 hours/7 days a week to make drop off and pick up convenient for your schedule!
Dog Boarding
Our luxury, all-inclusive, cage-free boarding will leave your pet wanting to come back again! Our luxury suites come with different options and sizes. For all suites, we provide clean, fresh bedding, tasty gourmet meals and daily activities at no extra fee! Reserve your dog's stay today! For families that like to see their dog on web cameras we offer Vacation Suites, Concierge Suites and Deluxe Suites. Vacation suites are extra-large with TVs, extra TLX, multiple playtimes in groups or individually, and extra treats. The extra-large Concierge Suites include multiple playtimes in groups or individually, deluxe bedding and extra treats as allowed. Deluxe suites are the right size for dogs of all sizes and families with more than one dog staying at AAPR. With music in these suites your dog will sleep soundly!
Our Thunder Suites will give you the comfort of knowing if your dog is easily stressed during thunderstorms, their suite has extra insulation, solid panel gates and are covered. These suites will minimize storm noise to reduce your dog's stress. Need more for your dog? Ask us about our Acupressure Blankets!
Dog Daycare
While you are away or busy at work, your dog can enjoy playing and socializing with other dogs at our dog daycare! Whether you need a full day or a half day, we keep our guests separated into groups by temperament, size and age. Our outdoor play areas have sunshade, a mister system, and fans to keep our guests comfortable! Our outdoor areas are double fenced and covered in sports turf for added health and safety. To avoid overstimulation, we have rest suites for our daycare guests to rest in between play periods. Your dog will enjoy making new friends and playing with their old friends at daycare!
Dog Grooming
Just like you want to look and feel your best, at All American Pet Resort we believe pets should look and feel their best too! Our groomers are highly experienced and provide a low-stress environment so your dog can enjoy their visit! We offer full kennel bath and brush out or brush out only. In addition, we offer ear cleaning (non-medicated) and nail clip and dremel.
To make the appointment process as easy as possible for our clients, we offer online booking!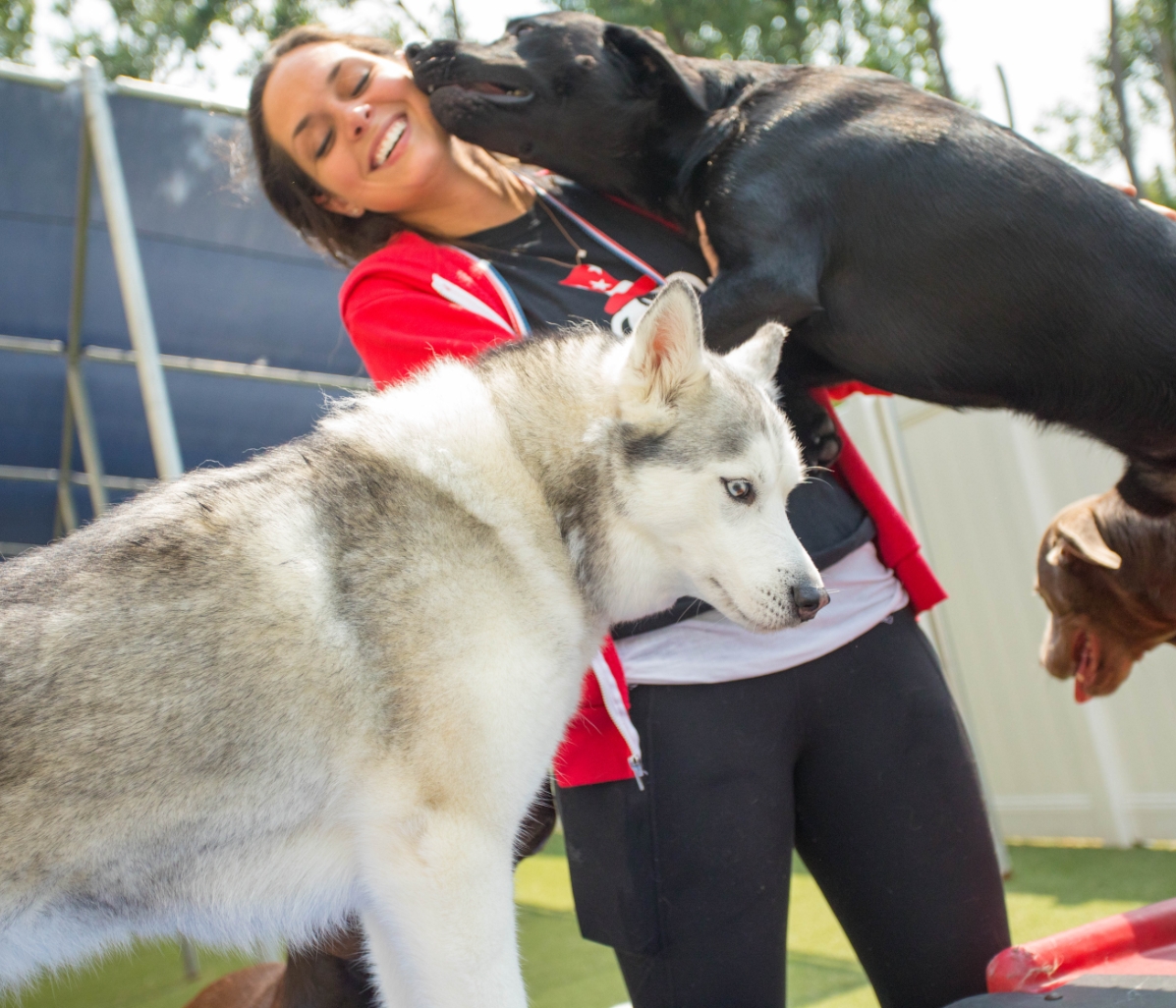 The All American Difference
Separation Without the Anxiety
24/7/365 Care

Feel confident that your pup is safe and secure and has continual access to the care they deserve.

Cage-Free Boarding

Take heart in knowing that your dog has a cozy place to sleep and will be treated like family.

Personal Attention

Never worry while you're away! Our Pet Care Specialists step in to ensure your dog feels loved and secure.

Specialized Sanitation

Relax knowing that we use advanced cleaning processes to guarantee a healthy, comfortable stay.

Webcams

Gain peace of mind by staying connected to your pup and witnessing our top-notch care - no matter where you are.