Pet Resort Naples FL
All American Pet Resort of Fort Myers is the luxury resort families of Naples FL rely on when they need a safe and trustworthy facility for their dogs. Our highly trained and experienced staff look forward to spending time with your dog during their visit. All our guests enjoy our luxury resort with state-of-the-art technology and air purification and temperature controls for added comfort! Be sure to reserve your spot early – our popular facility books up fast!
Dog Boarding
We offer a variety of boarding suites to keep your dog in luxury! From web cameras for you to see your dog while you are away, added TLC, and even suites to help relieve stress from the local Florida thunderstorms, our suites allow you to enjoy your time away knowing your dog is staying in luxury! We even have the perfect size suite to accommodate more than one dog from the same family! If the severe local thunderstorms cause stress, we offer the Thunder Suite with extra insulation to help keep your dog as stress free as possible during the local storms.
In addition to our Thunder Suites, we offer:
Vacation Suites – extra-large suites with a TV and 24-hour access web camera, extra TLC, multiple playtimes in groups or one-on-one with a staff member, deluxe bedding, and extra treats!
Concierge Suites – extra-large suites with a web camera for 24-hour access to view your pet, multiple playtimes in groups or one-on-one attention with a staff member, deluxe bedding, and extra treats!
Deluxe Suites –if you are boarding more than one dog, these suites are the perfect sized solution, with music, 24-hour web camera availability and playtime with others or individual play with a staff member.
Dog Daycare
Bring your dog to see old friends and make new ones! Our daycare offers indoor and outdoor play areas. Our outdoor areas are covered with sunshade and have a mister system and fans to keep your dog comfortable in our hot weather! The outdoor areas are double fenced and covered in sports turf for added health and safety for your pet. We keep our pets separated by age, size, and temperament. For downtime to avoid overstimulation, we have rest suites for our daycare guests. We offer full day and half day options. Space is limited so call today to book your dog's fun visit!
Dog Grooming
When it's time for your dog next beauty treatment, our highly trained and experienced dog groomers offer professional grooming for your pet! We believe pets deserve the best for their basic hygiene needs. We offer a professional grooming experience in a low stress environment. We offer:
Full Kennel Bath and brush-out
Brush-out only
Ear cleaning (non-medicated)
Nail clip and dremel
Book your dog's next appointment with our online services to keep them feeling their best!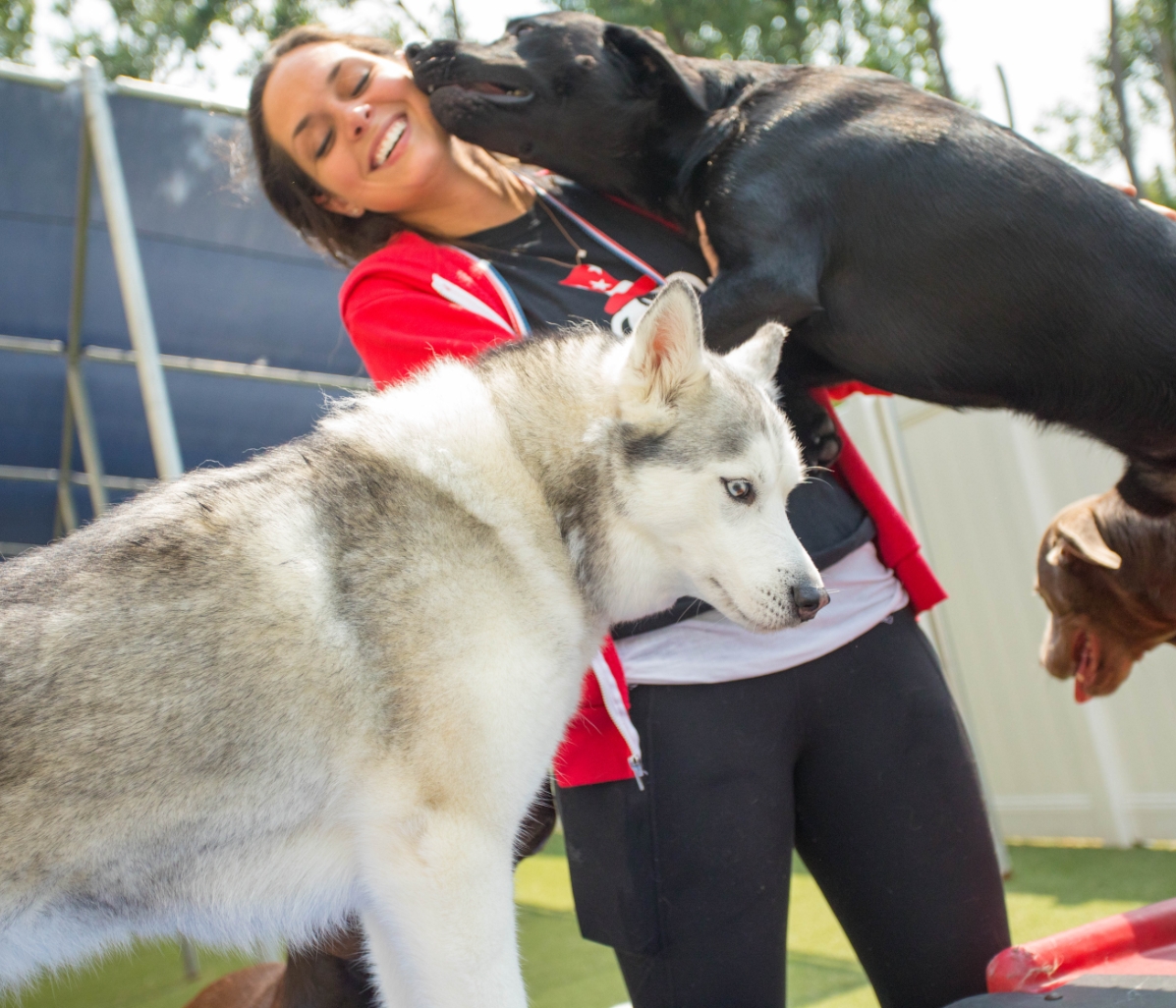 The All American Difference
Separation Without the Anxiety
24/7/365 Care

Feel confident that your pup is safe and secure and has continual access to the care they deserve.

Cage-Free Boarding

Take heart in knowing that your dog has a cozy place to sleep and will be treated like family.

Personal Attention

Never worry while you're away! Our Pet Care Specialists step in to ensure your dog feels loved and secure.

Specialized Sanitation

Relax knowing that we use advanced cleaning processes to guarantee a healthy, comfortable stay.

Webcams

Gain peace of mind by staying connected to your pup and witnessing our top-notch care - no matter where you are.