Our Services in Roseville, MI
Leave your pet in the best hands
As pet owners ourselves, we understand how difficult it is to be separated from your pets. That's why we offer high-quality service and dedicated care for pets who need boarding while their family is away. At All American Pet Resorts of Lakeshore, we've been caring for pets in the Lakeshore area for 17 years.
At All American Pet Resorts Lakeshore, we offer:
From young pups to senior dogs, we are happy to accommodate pets of all ages and stages in Lakeshore. Our resorts offer VIP accommodations that include cozy blankets, climate control, and large play areas. For pet parents' peace of mind, we offer unrestricted webcam access so that you can check in on your pup from wherever you may be.
Pet Boarding
Our pet-friendly Roseville pet resort offers your pup a fun, safe and secure environment that will give you peace of mind while you're away. We know that leaving your pet behind can be a stressful experience, but with All American Pet Resorts you can rest assured.
Our resort workers are qualified staff, who can provide your pup with the care and attention they need. Your pet will feel at home, and will be looked after at all times. Whether you need overnight, weekend, vacation or long-term care, your pet will enjoy supervised playtime with their friends and restful nights of sleep.
At All American Pet Resorts, all pets will enjoy clean, fresh bedding, a high-quality diet and top-notch care.
Pet Daycare
Want to leave your pet somewhere to have a great time, socialize and interact with other dogs? The All American Pet Resorts daycare offers your dog a few hours of daily playtime, where they will be cared for by our professionals. Our facilities have spacious indoor and outdoor playrooms that are 100% safe and designed for pets.
To ensure safety, we group pets in kennels according to breed, size and play style to ensure that their experience at our resort is the best possible.
Pet Grooming
Regular grooming is an important part of keeping your pet looking, feeling and smelling its best. At All American Pet Resort at Lakeshore we offer a pet grooming service for your dog. If you are also using the daycare or boarding service, we will perform the grooming service before you come to pick up your pet. Your pet will arrive back home clean, fresh and ready to accompany you again in your adventures.
In addition to being a key service in improving your pet's appearance and well-being, regular grooming helps protect their health by maintaining a healthy coat and skin. It can help identify skin problems, parasites and health issues before they become serious.
Help keep them healthy and happy with the best dog grooming service.
Request a reservation for our dog daycare and other services today!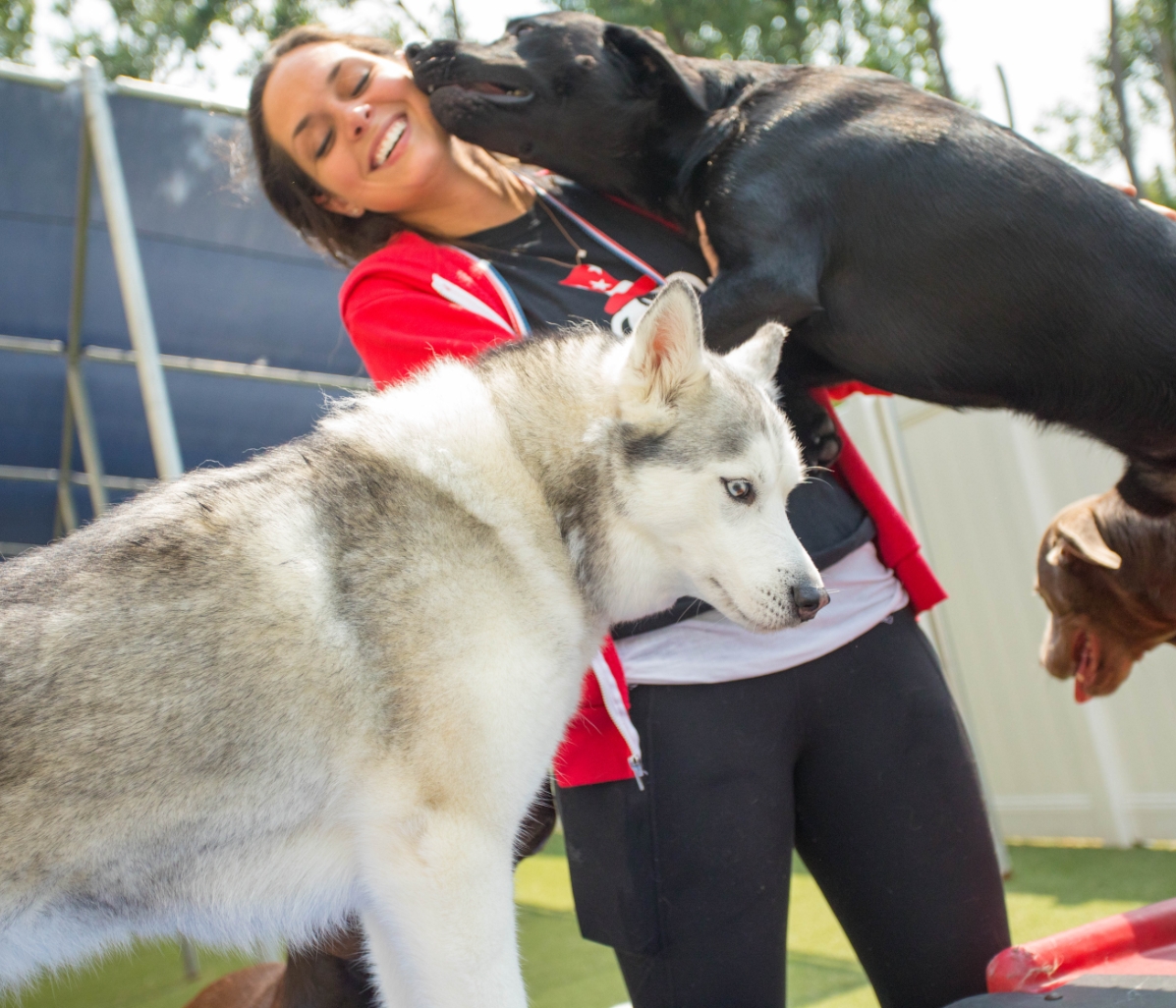 The All American Difference
Separation Without the Anxiety
24/7/365 Care

Feel confident that your pup is safe and secure and has continual access to the care they deserve.

Cage-Free Boarding

Take heart in knowing that your dog has a cozy place to sleep and will be treated like family.

Personal Attention

Never worry while you're away! Our Pet Care Specialists step in to ensure your dog feels loved and secure.

Specialized Sanitation

Relax knowing that we use advanced cleaning processes to guarantee a healthy, comfortable stay.

Webcams

Gain peace of mind by staying connected to your pup and witnessing our top-notch care - no matter where you are.