Dog Grooming Services in Royal Oak, MI
Are you looking for a high-quality dog grooming service in Royal Oak that provides a comfortable and stress-free experience for your furry friend?
At All American Pet Resorts Royal Oak, we offer premium dog grooming services that prioritize the comfort and well-being of your dog. Our professional groomers are highly skilled and trained to provide a range of grooming services that cater to the individual needs of your dog.
With our state-of-the-art facilities and extensive experience in dog care, we provide the perfect environment for your dog to receive the best grooming service possible. From nail trimming and ear cleaning to luxurious spa treatments, we offer everything your dog needs to look and feel their best.
Additionally, our team of expert groomers are equipped with the knowledge and skills to identify potential health issues and provide early detection of any problems. We understand that every dog is unique and we tailor our grooming services to suit their individual needs. Don't settle for mediocre grooming services. Choose All American Pet Resorts for a premium dog grooming experience that prioritizes your dog's comfort, health, and happiness.
Contact us today at (248) 720-6431 to schedule an appointment and give your furry friend the pampering they deserve.
Spa Day for Your Pup
At All American Pet Resorts Royal Oak, we understand that your furry friend deserves to be pampered just like you do. That's why we offer a variety of spa services to keep your pup looking and feeling their best.
Our dog grooming services include:
Bathing and blow drying
Nail trimming and filing
Ear cleaning and plucking
Teeth brushing
Cuts, trims, and styling
Our experienced and gentle groomers will provide a relaxing and enjoyable spa experience for your pup, leaving them feeling refreshed and looking their best. Plus, regular grooming can help maintain your dog's overall health and hygiene.
Keep Your Pup Looking Their Best
Similar to their human counterparts, pets also need regular basic hygiene to maintain their health and cleanliness. While there's no doubt that you love your pet unconditionally, it's hard to deny that you might love them a little bit more when they're freshly groomed and clean.
Consistent grooming plays a significant role in promoting your pet's overall health and well-being. Brushing, for example, can eliminate dead hair, dandruff, and dirt, while also enhancing their fur's natural oils. Additionally, regular grooming can identify potential issues that may have gone unnoticed, including skin problems or lumps. All American Pet Resorts Royal Oak provides dog grooming and spa services to ensure that your furry friends look and feel their best.
All American Pet Resorts Royal Oak, MI
All American Pet Resorts Royal Oak

Lobby Hours

| | | |
| --- | --- | --- |
| Monday | 8:00 AM - 7:00 PM | |
| Tuesday | 8:00 AM - 7:00 PM | |
| Wednesday | 8:00 AM - 7:00 PM | |
| Thursday | 8:00 AM - 7:00 PM | |
| Friday | 8:00 AM - 7:00 PM | |
| Saturday | 8:00 AM - 7:00 PM | |
| Sunday | 12:00 PM - 7:00 PM | |
Grooming Services
Bath

BBNE

Bath, Brush, Nails, & Ears Package

Sensitive Skin Oatmeal Shampoo

Brush Out

De-Shedding

Nail Trim

$15.00

Teeth Brushing

$10.00

Ear Cleaning

$10.00

Expression of Glands

$10.00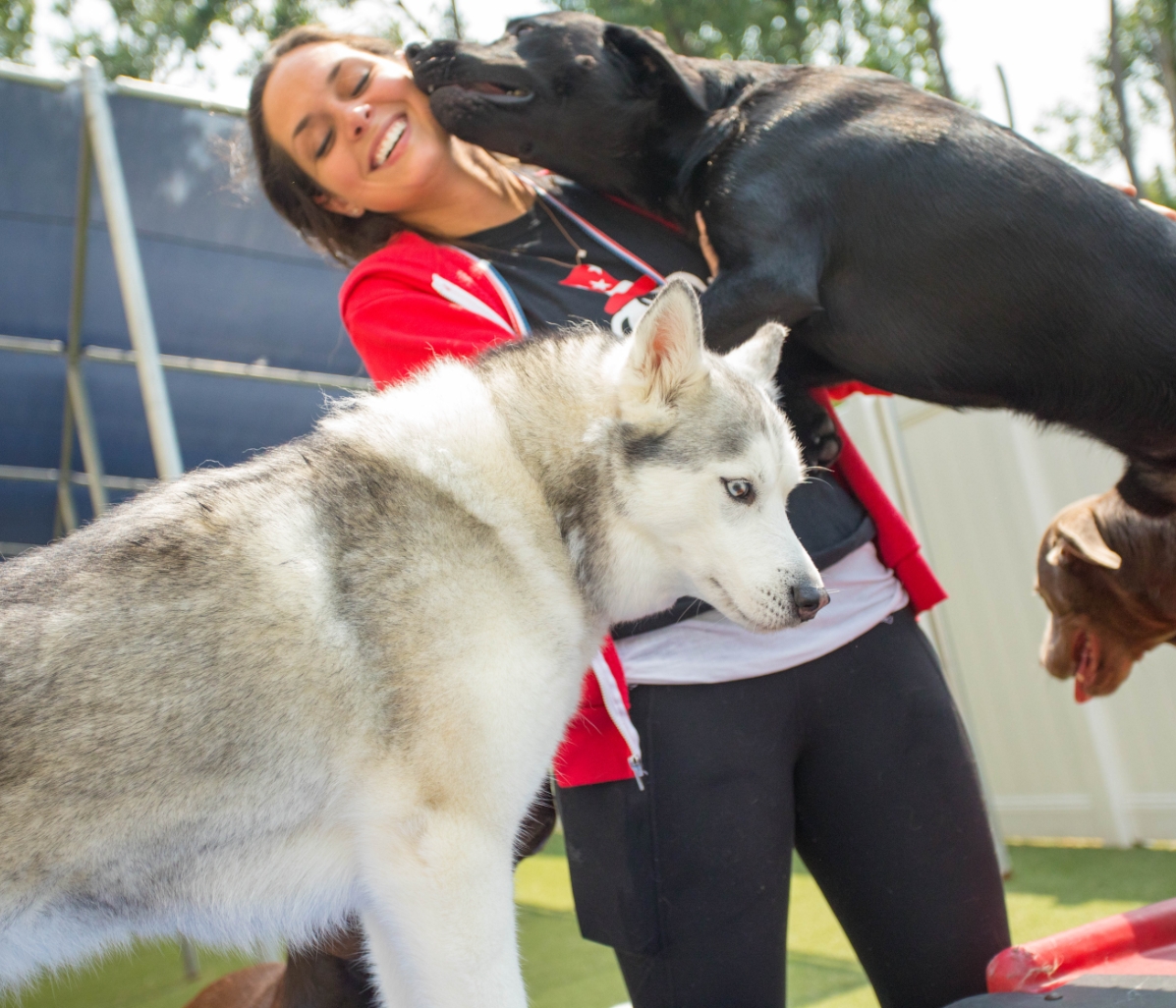 The All American Difference
Separation Without the Anxiety
24/7/365 Care

Feel confident that your pup is safe and secure and has continual access to the care they deserve.

Cage-Free Boarding

Take heart in knowing that your dog has a cozy place to sleep and will be treated like family.

Personal Attention

Never worry while you're away! Our Pet Care Specialists step in to ensure your dog feels loved and secure.

Specialized Sanitation

Relax knowing that we use advanced cleaning processes to guarantee a healthy, comfortable stay.

Webcams

Gain peace of mind by staying connected to your pup and witnessing our top-notch care - no matter where you are.
Benefits of Having Your Dog Professionally Groomed
There are several benefits of having your dog professionally groomed:
Improved appearance: Regular grooming helps to keep your dog's coat shiny, healthy, and free of mats and tangles. Professional grooming can also give your dog a neat and tidy appearance.

Better hygiene: Grooming helps to keep your dog's skin and coat clean and free from dirt, debris, and parasites. This can help to prevent skin irritations and infections.

Early detection of health issues: Groomers are trained to identify potential health problems, such as skin issues, ear infections, or lumps and bumps. Regular grooming appointments can help to catch these issues early, making them easier and less expensive to treat.

Reduced shedding: Regular grooming can help to remove excess hair and prevent shedding, which can help to keep your home cleaner and reduce the amount of hair you need to vacuum or sweep up.

Stress relief: Many dogs enjoy the attention and pampering they receive during a grooming appointment. This can help to reduce stress and anxiety, making your dog happier and healthier overall.
Overall, professional grooming can help to keep your dog looking and feeling their best, while also promoting their health and well-being.