Dog Boarding Services in Royal Oak
Travel Without Worry
For pet parents, it's never easy to leave your dog behind – especially when it's overnight or for a few nights. In a perfect world, you'd be able to bring your pup with you wherever you go. Unfortunately, that's just not possible all the time. So All American Pet Resorts Royal Oak is here to offer the next best thing: premium dog boarding services that will give you the peace of mind you deserve and the pampering your pet deserves. Our Royal Oak dog boarding service offers suites for dogs of all ages and sizes. We offer premium accommodations that feature cozy suites, 24/7 care, personalized attention, and clean, sanitized, and climate-controlled facilities. Our resort is a second home for your pet where they will receive unsurpassed comfort and care – and probably more than a few ear scratches from our Pet Care Specialists. When you can't be with your best friend, make sure they're with us.
Our Amenities
Stated simply, All American Pet Resorts Royal Oak offers more than your average dog boarding service in Royal Oak. We believe that peace of mind doesn't have a price tag and have elevated the boarding experience to make sure that pets not only have a place to stay but somewhere where they will feel at home.
Our amenities include the following:
24/7 on-site staff and care
Comfortable, elevated premium bedding
Pro Plan Veterinary diet
Up to four hours of playtime with other pets of similar size, play style, age, and energy*
Two to five personal walks per day
*Playtime with other pets is reserved for pets that interact well with other pets and resort staff. We'll learn a bit about your dog during their evaluation so that we can include them with the appropriate group.
What are the Benefits of dog boarding?
When you leave town, the last thing you want to worry about is your dog. Boarding your dog at a facility like All American Pet Resorts Royal Oak ensures that your dog will be safe and well-cared for while you're away. All-American Pet Resorts offers a variety of services, including dog daycare, dog walking, and dog grooming. Our staff is trained so that you can rest assured knowing that your dog is in good hands. In addition to peace of mind, boarding your dog at a facility like All-American Pet Resorts also provides numerous other benefits.
It allows your dog to socialize with other dogs, which can improve their behavior.
It gives high-energy dogs the opportunity to release energy.
It provides a safe and clean environment for your dog to stay while you're away from home.
So if you're looking for a trusted and reliable dog boarding facility, look no further than All American Pet Resorts Royal Oak.
Ready to book your pup's stay? Reach out to us today at (248) 720-6431or request a reservationonline
All American Pet Resorts Royal Oak, MI
All American Pet Resorts Royal Oak

Lobby Hours

| | | |
| --- | --- | --- |
| Monday | 8:00 AM - 7:00 PM | |
| Tuesday | 8:00 AM - 7:00 PM | |
| Wednesday | 8:00 AM - 7:00 PM | |
| Thursday | 8:00 AM - 7:00 PM | |
| Friday | 8:00 AM - 7:00 PM | |
| Saturday | 8:00 AM - 7:00 PM | |
| Sunday | 12:00 PM - 7:00 PM | |
Single Dog Pricing
Price
Deluxe Suite

Spacious suites with 24-hour resort webcam access

$50.00

$10 Discount for Each Additional Dog

Additional dogs must be sharing a suite to receive a discount.

$45.00
Additional Boarding Services
Puppy Care

Senior Dog Care

Dog Private Time

Group Play

Medication Administration

Pills, liquids and supplements

Insulin Injections

Private Exercise

High-quality, nutrition based, digestible diet

Bordetella

Before Hours Check-In

After Hours Check-Out

Bath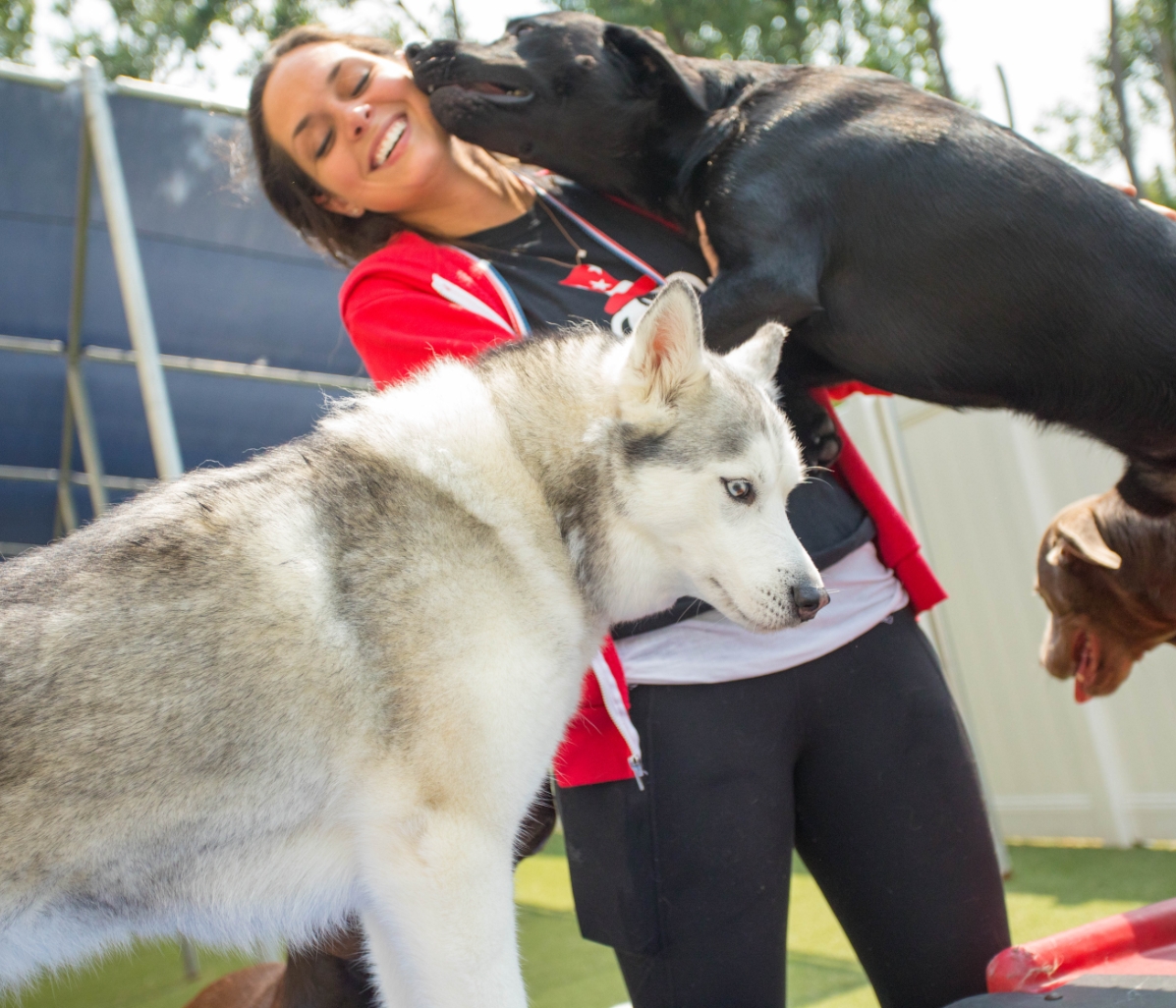 The All American Difference
Separation Without the Anxiety
24/7/365 Care

Feel confident that your pup is safe and secure and has continual access to the care they deserve.

Cage-Free Boarding

Take heart in knowing that your dog has a cozy place to sleep and will be treated like family.

Personal Attention

Never worry while you're away! Our Pet Care Specialists step in to ensure your dog feels loved and secure.

Specialized Sanitation

Relax knowing that we use advanced cleaning processes to guarantee a healthy, comfortable stay.

Webcams

Gain peace of mind by staying connected to your pup and witnessing our top-notch care - no matter where you are.
Complimentary Evaluations & Tours
At All American Pet Resorts Royal Oak, we want our pet parents to relax while they're away. The best way for them to do so is by knowing that their family members are happy and being fully cared for. To provide you with further peace of mind, we offer complimentary evaluations and tours. Though not required, we recommend both. The evaluation will give us a chance to learn more about your pup and how they interact with other dogs, and our tour will give you a glimpse of our facilities.
We offer discounts for families with multiple pets. Contact us today at (248) 720-6431 to learn more about our Royal Oak dog boarding services!