Dog Grooming in New Bern, NC
Tailored Grooming Excellence for Your Beloved Canine Companion
At All American Pet Resorts New Bern, we understand that your furry friend is more than just a pet—they are a cherished member of your family. We know that nothing brings more joy than seeing your dog happy, healthy, and impeccably groomed.
Our comprehensive dog grooming services in New Bern, NC are designed to ensure that your canine companion looks and feels their best, all while promoting their overall well-being.
Why Regular Dog Grooming Matters
Regular grooming isn't just about aesthetics—it's essential for your dog's overall health and happiness. Our team of experienced groomers recognizes the significance of a proper grooming routine. Not only does it enhance your dog's appearance, but it also promotes skin health, prevents matting, and keeps them comfortable.
Our Expert Dog Grooming Services
Brushing and De-shedding: Our expert groomers use specialized techniques to gently brush and de-shed your dog's coat. This helps eliminate dead hair, dandruff, and dirt, while also stimulating the natural oils in their fur, leaving them with a healthy and lustrous coat.
Bath and Beyond: Treat your dog to a refreshing bath that cleanses their coat and revitalizes their skin. Our "Bath, Brush, Nails, and Ears" (BBNE) package goes the extra mile, ensuring a thorough pampering experience.
Nail Trim and Care: Proper nail care is essential for your dog's comfort and mobility. Our gentle nail trimming and dremel services ensure well-maintained nails without discomfort.
Anal Gland Expression: This vital service prevents discomfort and health issues related to anal glands, promoting your dog's comfort and well-being.
Tailored Grooming Services for Every Pup
At All American Pet Resorts New Bern, we understand that every dog is unique. Our services are tailored to accommodate your dog's size, breed, age, condition, and energy level. We recognize that individual dogs have distinct grooming needs, and our team is skilled in delivering personalized care to meet those needs effectively.
Experience the All American Pet Resorts New Bern Difference
When you choose All American Pet Resorts New Bern, you're opting for more than just a dog grooming service. You're choosing a team that's dedicated to your dog's happiness, health, and style. Our New Bern, NC location offers a range of grooming options, ensuring that your pup receives the care they deserve.
Give your pup the best grooming experience! Call (252) 888-3348 or contact us online for tailored dog grooming near you!
All American Pet Resorts New Bern, NC
All American Pet Resorts New Bern

Lobby Hours

| | | |
| --- | --- | --- |
| Monday | 7:00 AM - 7:00 PM | |
| Tuesday | 7:00 AM - 7:00 PM | |
| Wednesday | 7:00 AM - 7:00 PM | |
| Thursday | 7:00 AM - 7:00 PM | |
| Friday | 7:00 AM - 7:00 PM | |
| Saturday | 8:00 AM - 4:00 PM | |
| Sunday | 10:00 AM - 6:00 PM | |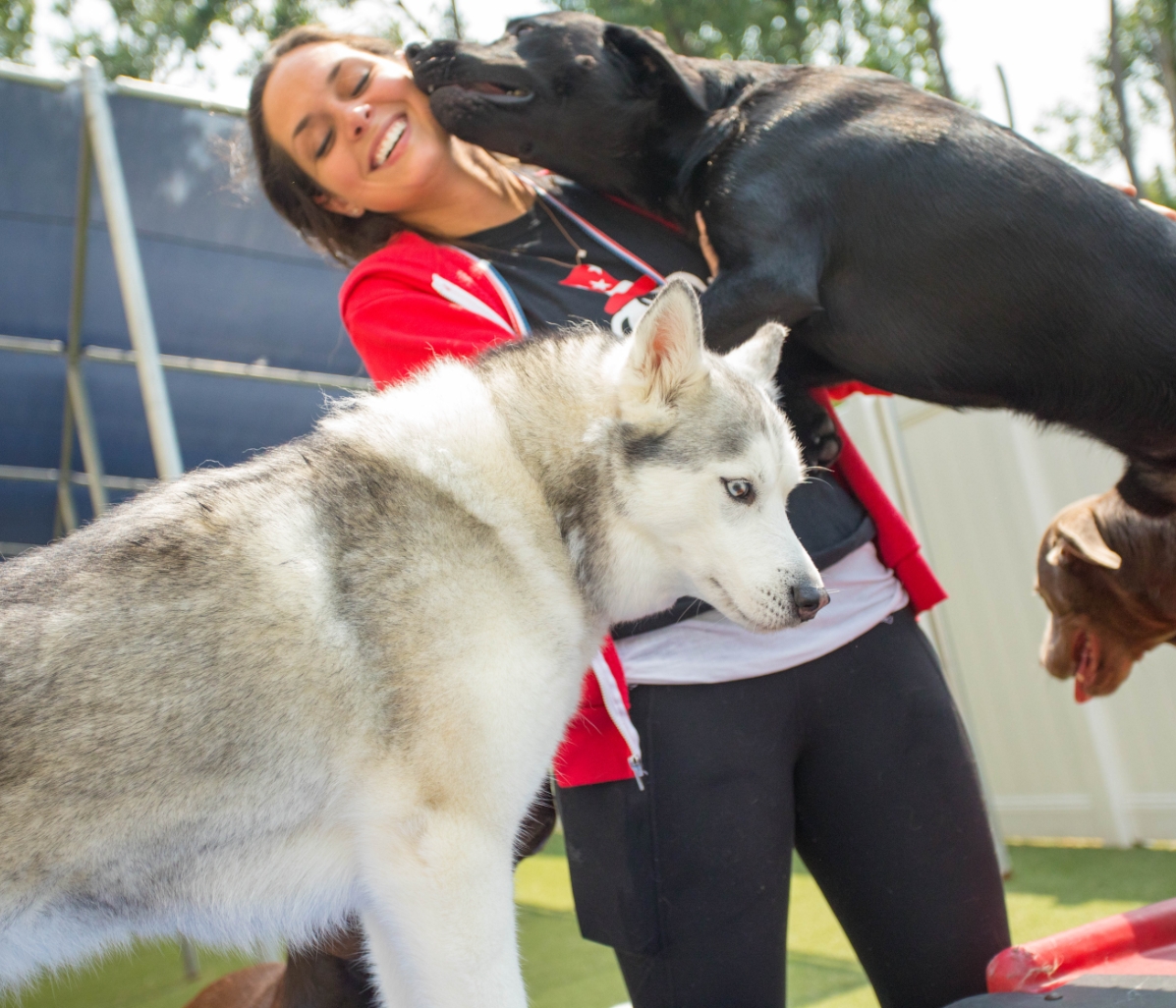 The All American Difference
Separation Without the Anxiety
24/7/365 Care

Feel confident that your pup is safe and secure and has continual access to the care they deserve.

Cage-Free Boarding

Take heart in knowing that your dog has a cozy place to sleep and will be treated like family.

Personal Attention

Never worry while you're away! Our Pet Care Specialists step in to ensure your dog feels loved and secure.

Specialized Sanitation

Relax knowing that we use advanced cleaning processes to guarantee a healthy, comfortable stay.

Webcams

Gain peace of mind by staying connected to your pup and witnessing our top-notch care - no matter where you are.