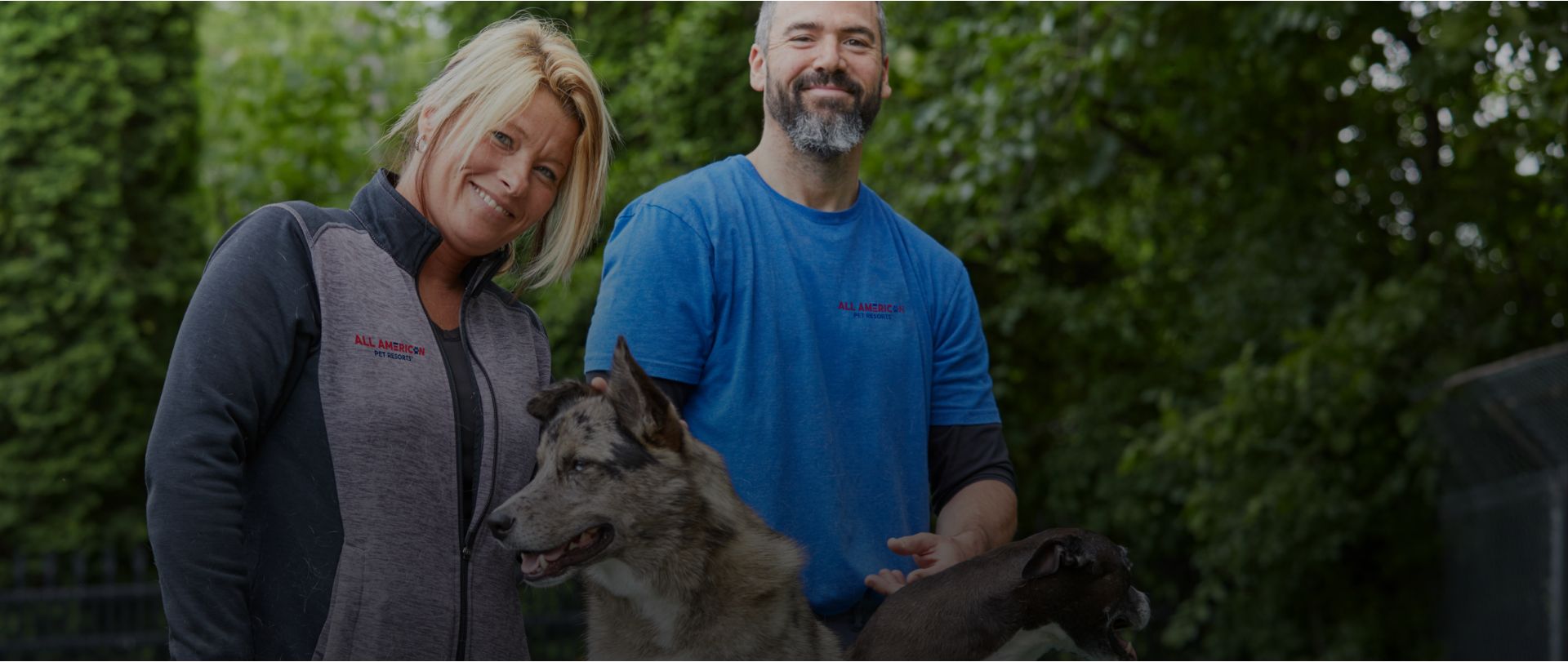 Dallas Dog Daycare & Boarding 24/7/365 Never worry
while you're away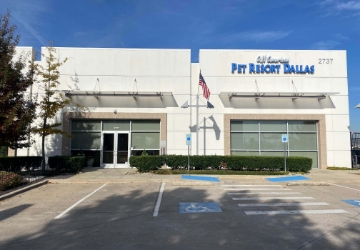 (469) 654-4907
Lobby Hours:
7:00 AM - 7:00 PM
View All Lobby Hours
All American Pet Resorts Dallas
Lobby Hours
| | | |
| --- | --- | --- |
| Monday | 7:00 AM - 7:00 PM | |
| Tuesday | 7:00 AM - 7:00 PM | |
| Wednesday | 7:00 AM - 7:00 PM | |
| Thursday | 7:00 AM - 7:00 PM | |
| Friday | 7:00 AM - 7:00 PM | |
| Saturday | 8:00 AM - 5:00 PM | |
| Sunday | 8:00 AM - 5:00 PM | |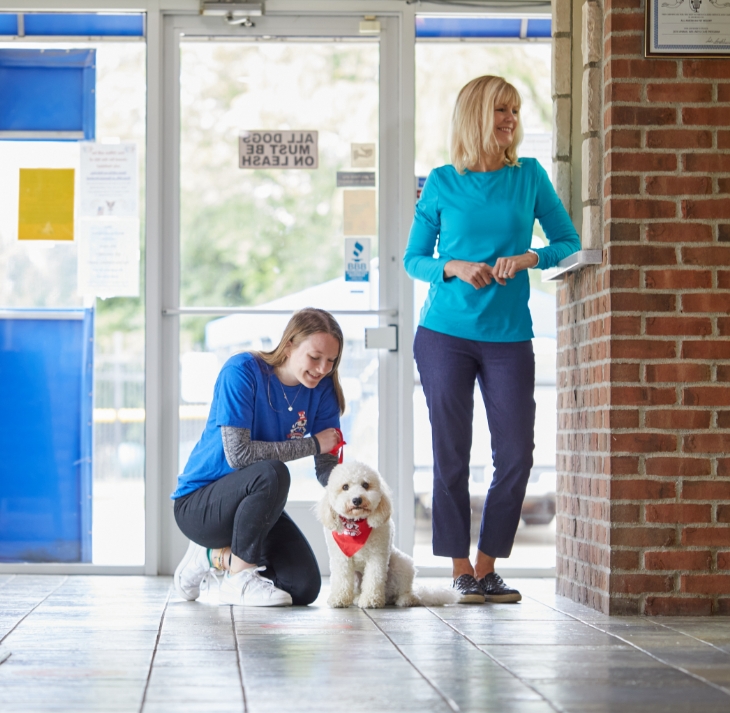 Dog Boarding & Daycare Services in Dallas
Dog Hotel Near You
If your dog can't be with you, make sure they're with All American Pet Resorts Dallas. Whether it's for a few hours or a few days, our Pet Care Specialists want to care for your best friend when you can't. Our Dallas dog hotel has redefined the dog daycare and boarding experience with premium services that ensure your dog will have the best time.
Our Dallas dog boarding and daycare services are second to none. We skip the cages and crates and instead opt for cozy suites that will allow for stress-free rest and relaxation. We offer quality dog boarding in Dallas that your pet will love! Our specialists are trained and provide individualized care and attention to each of our resort guests – including more than a few belly rubs.
Looking for the best dog daycare near you? Dial (469) 654-4907 or request a reservation online!
Our Luxury Dog Kennel in Dallas Boasts the Following Amenities:
24/7 on-site staff and care
Specially designed sanitation system
Safe, secure, and climate-controlled facilities
Purina EN dog food
We also offer ample time to run and play, balanced with rest and relaxation. Essentially, we provide the resort experience your furry family member deserves.
To book a stay at our Dallas doggie daycare, reach out to us by calling (469) 654-4907 or request your reservation online!

Why Choose All American Pet Resorts?
We understand that we are not your only choice for quality Dallas doggie daycare, but we would argue that we are the best. We've redefined doggy daycare and boarding by making it more than just a temporary space for dogs to stay while their parents work or travel. We are passionate about pets and know they deserve nothing but the best. So when they are at our resort, we pamper and spoil them accordingly.
There are three key ways our pet hotel in Dallas, TX stands out:
Thousands of square feet of play area, including five outdoor play yards totaling 7,785 square feet plus a water park and indoor play space in case the weather doesn't permit outdoor play.
Webcam access for pet parents to look in on their family members, no matter how far away they may be.
A state-of-the-art facility that takes advantage of the latest technology to provide a safe and healthy environment for all our resort guests. This includes our air purification and exchange HVAC system and a custom sanitation system that safely removes all wastewater from the resort.
All American Pet Resorts Dallas offers free tours, so visit us anytime during lobby hours to see why dogs and their parents love us so much. We also offer complimentary evaluations for your pet to ensure a phenomenal experience while visiting our dog daycare in Dallas, TX.
About Dallas, TX
If you're looking for cowboys, sports abound, and a thriving arts and culture scene, you'll find them here in Dallas, TX, comfortably situated in Dallas County and the fourth-largest metro area in the U.S. The city has a high concentration of unique restaurants, shopping, and various major corporations' headquarters that migrated to this thriving cosmopolitan epicenter. For the professional sports fanatics, you can't leave town without catching a game or two. Dallas is home to the Dallas Cowboys football team, the Dallas Stars hockey team, and the Dallas Mavericks basketball team.
You deserve peace of mind, so request your pet's stay at our Dallas daycare and boarding resort today or call us now at (469) 654-4907!
Continue ReadingRead Less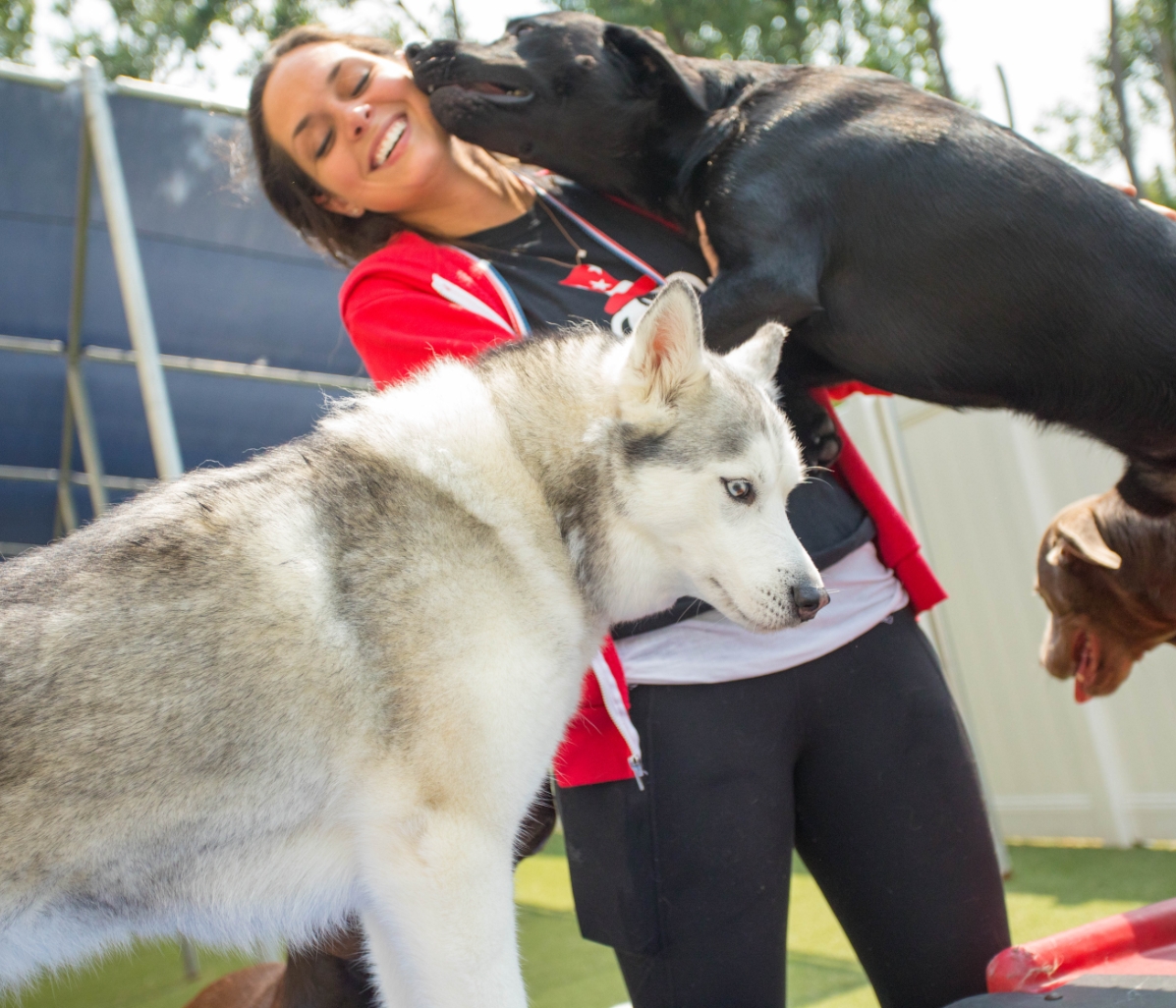 The All American Difference
Separation Without the Anxiety
24/7/365 Care

Feel confident that your pup is safe and secure and has continual access to the care they deserve.

Cage-Free Boarding

Take heart in knowing that your dog has a cozy place to sleep and will be treated like family.

Personal Attention

Never worry while you're away! Our Pet Care Specialists step in to ensure your dog feels loved and secure.

Specialized Sanitation

Relax knowing that we use advanced cleaning processes to guarantee a healthy, comfortable stay.

Webcams

Gain peace of mind by staying connected to your pup and witnessing our top-notch care - no matter where you are.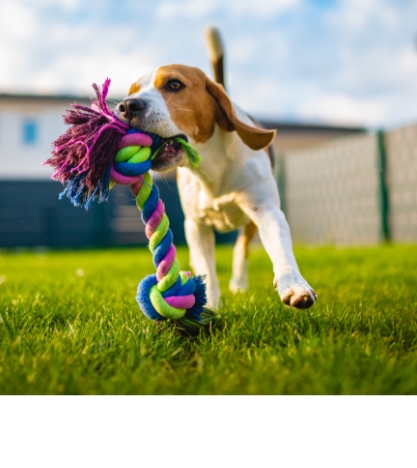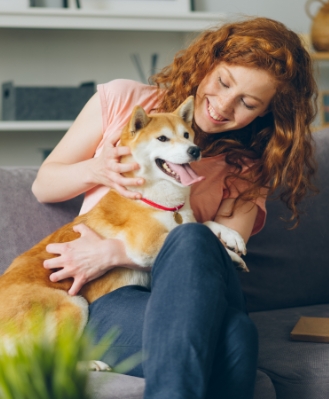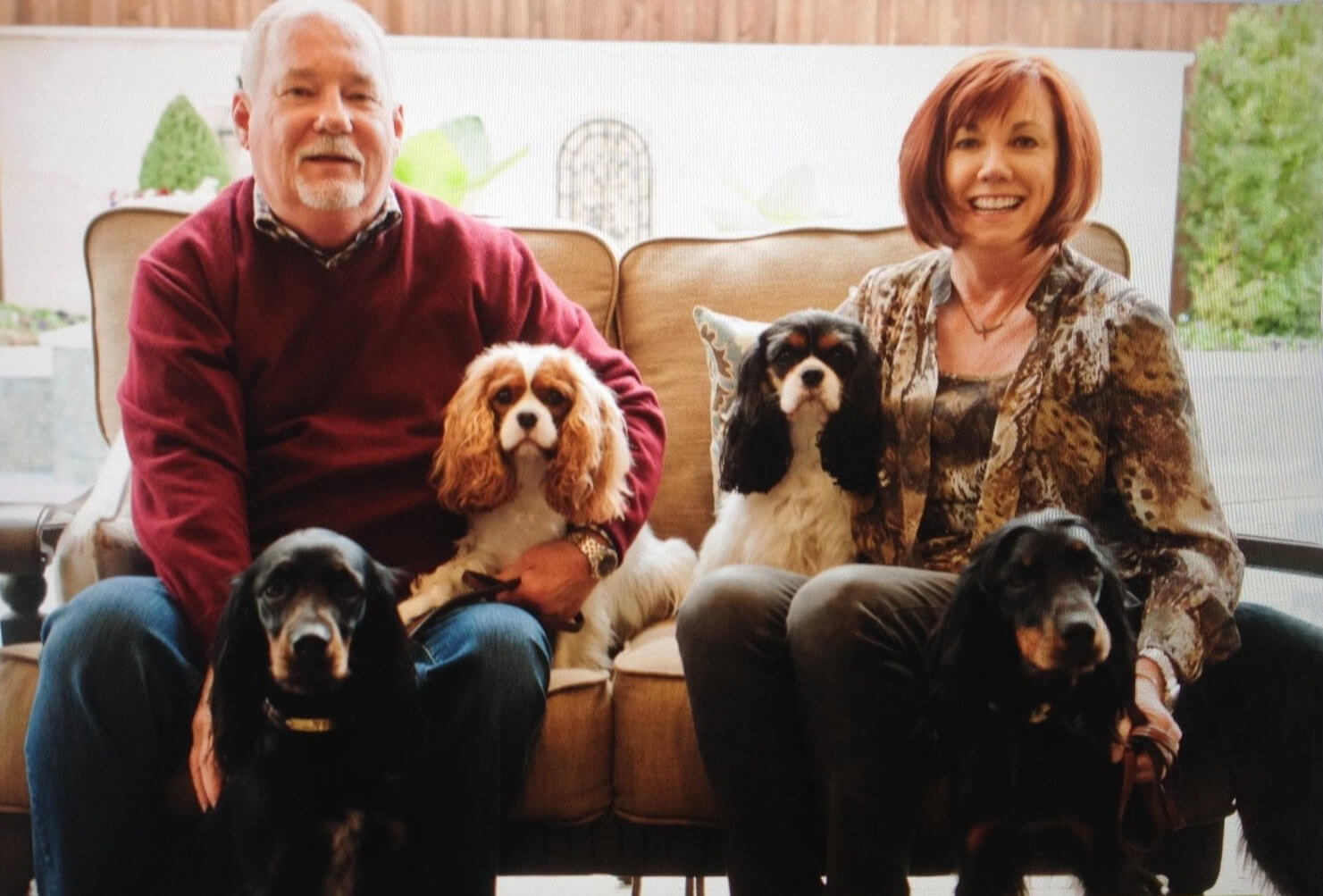 If Your Dog Can't Be With You,
Make Sure

They're With Us
"I just wanted to give a shout-out to the whole team there about how happy Drake and I are with your services and care. Everyone has been so polite, caring, enthusiastic, and professional in every way. I hit the jackpot with you!"

Mary

"This place is awesome! The staff is super nice and I know my dog is in good hands when I leave him there for daycare. The facility is super clean and my dog ALWAYS comes home tired!"

Jessica H. All American Pet Resorts Shelby Township

"We highly recommend All American for anyone looking for a place for their dog to be kept. We no longer worry about where to put our dog when on vacation, and will surely book All American Pet Resorts of North Brunswick when we go on vacation in the future."

Anne Marie & Eric Peters All American Pet Resorts North Brunswick
Setting the Standard For
Premium Dog Care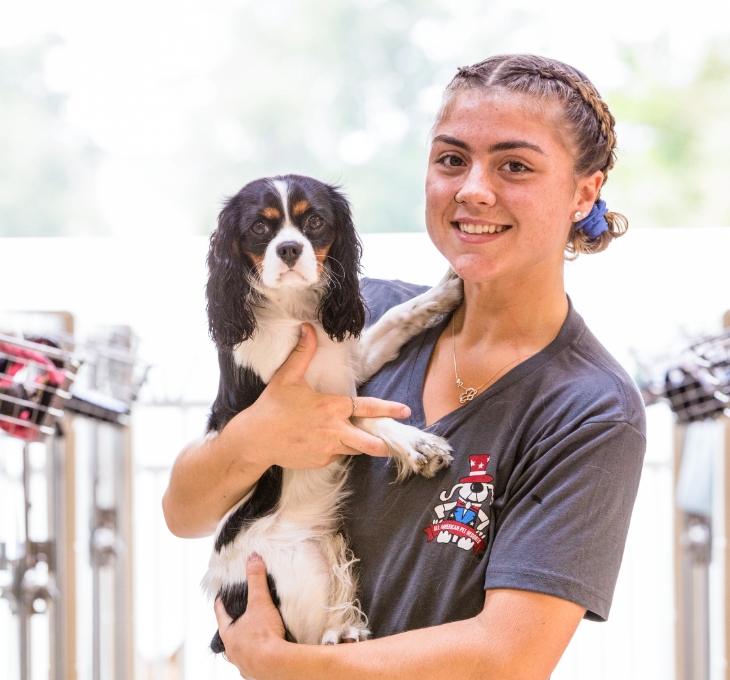 All American Pet Resorts is proud to serve the needs of pet parents in Dallas and the surrounding communities. We are a locally owned and operated doggie day care Dallas backed by a national brand with over 18 years of experience. In addition to Dallas, we serve the following areas:
At All American Pet Resorts Dallas, everything we do reflects our commitment to you and your best friend. Book your stay today at (469) 654-4907.