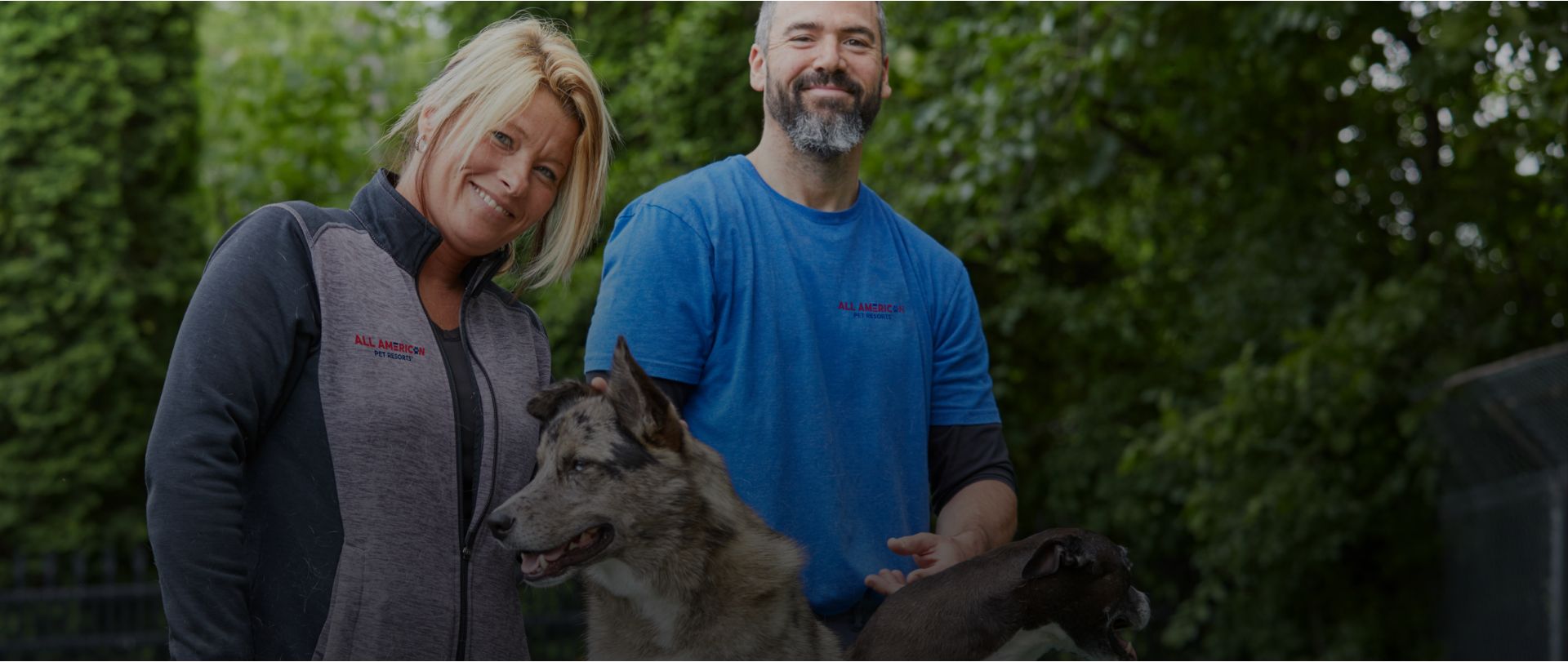 Shelby Township Dog Daycare & Boarding 24/7/365 Never worry
while you're away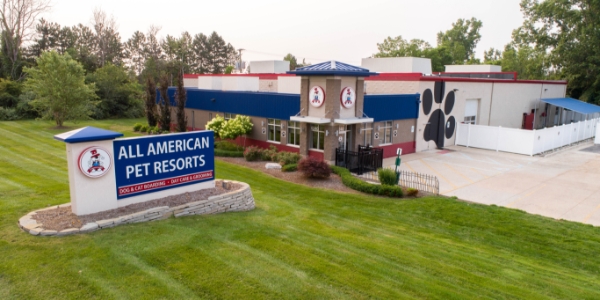 (586) 400-2727
Lobby Hours:
6:30 AM - 7:00 PM
View All Lobby Hours
All American Pet Resorts Shelby Township
Lobby Hours
| | | |
| --- | --- | --- |
| Monday | 6:30 AM - 7:00 PM | |
| Tuesday | 6:30 AM - 7:00 PM | |
| Wednesday | 6:30 AM - 7:00 PM | |
| Thursday | 6:30 AM - 7:00 PM | |
| Friday | 6:30 AM - 7:00 PM | |
| Saturday | 8:00 AM - 5:00 PM | |
| Sunday | 8:00 AM - 5:00 PM | |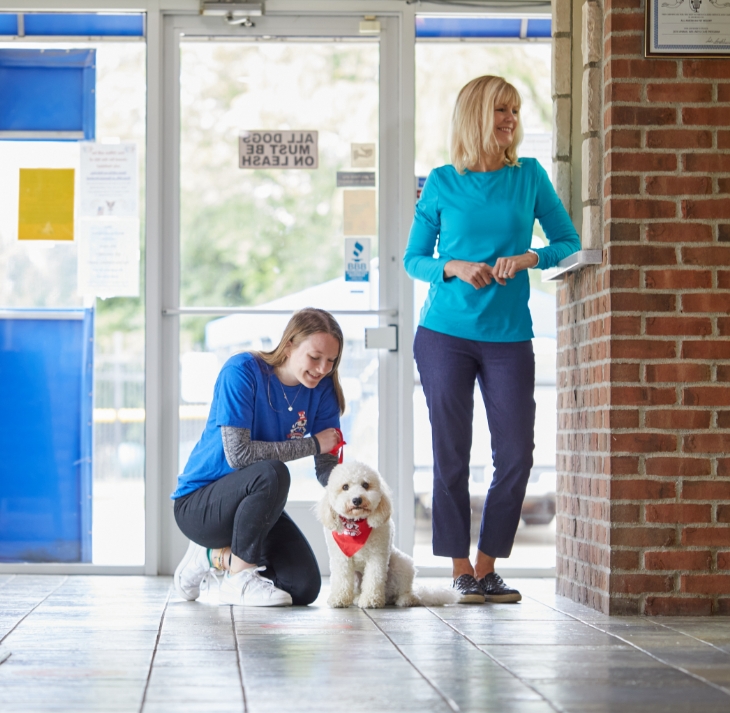 Pet Boarding & Daycare in Shelby Township
Cat & Dog Boarding Near You
Welcome to All American Pet Resorts Shelby Township, where we provide premium level pet care for both dogs and cats. Whether you are looking for someone to watch your dog while you're at work or accommodations for your cat while you go on vacation, we are ready to provide them with attentive care and you with peace of mind.
Unlike other pet boarding facilities, we're here around the clock - 24/7, 365 days a year. For your peace of mind, we offer full transparency, thanks to our live webcams. Your pet is in amazing hands! You're welcome to check out our reviews to see why our customers and their pets love us.
Give us a call at (586) 400-2727 or request a reservation online for Shelby Township dog boarding near you!
Our Shelby Township Pet Hotel services
Our Shelby Township pet care services have redefined how pet parents view pet daycare and boarding.
At All American Pet Resorts Shelby Township, we're pleased to offer:
Dog boarding
Our pet hotel offers top-notch day and overnight dog boarding services to ensure that your furry friends have the best possible experience. We offer a safe, secure environment with plenty of activities to keep your pup entertained during their stay. Our staff is highly trained in animal care and are dedicated to providing exceptional service for each guest. With our 24-hour onsite monitoring, you can rest assured knowing that your beloved canine companion will be well taken care of while they're away from home!
Dog daycare
Our pet hotel provides doggy daycare services that are designed to provide your pup with an enjoyable and safe environment while you're away. Our experienced staff of animal care professionals will ensure that your pooch is well taken care of, providing them with plenty of exercise, playtime, and socialization.
Pet Boarding in Suites, Not Cages
Forget the days of runs, cages, and cold facilities. We instead offer premium suites and raised beds where pets can relax and unwind after running, romping, and playing with others.
As pet parents ourselves, we fully understand the stress and anxiety you sometimes feel when you're separated from your pup. It's hard to communicate with them that you'll be back shortly, and they may experience anxiety as well.
We're Truly a Resort for Your Pet
Our Pet Care Specialists will provide them with unsurpassed care and make them feel right at home. So enjoy your time away, because your pup will surely enjoy theirs.
Contact us online or give our friendly staff a call at (586) 400-2727 to book your pet's boarding or daycare reservation. We can't wait to meet you and your pet!
Excellence in Everything We Do
All American Pet Resorts Shelby Township is a locally owned and operated resort backed by a national brand with over 18 years of experience. We don't believe you can put a price tag on peace of mind.
Our resort is unlike other daycare and boarding services because we put an emphasis on comfort and pampering. For instance, our facilities are safe, secure, and climate-controlled.
Our Shelby Township pet daycare and boarding services include the following amenities:
24/7 on-site staff and care
Individualized attention from our Pet Care Specialists
Fromm Family Gold - Grain Free diet
Custom sanitation system to ensure guest health and safety
Unlimited webcam access for pet parents
We are so much more than just a temporary place for your pet to stay. In fact, we are so confident that they'll love it here – and love our staff – that you may have a hard time getting them to return home with you.
Don't Forget Grooming!
Grooming your dog is about more than just making them look good. Routine grooming is integral to their overall health and well-being.
During a grooming session, certain health problems can be uncovered before they become a larger health risk.
Our grooming services, which include:
Baths,
Desheds,
Nail trims, and
Teeth and ear cleaning
Our Shelby Township dog grooming services can be scheduled during your pup's daycare or boarding stay.
Expert Dog Grooming for Every Breed and Coat Type
At All American Pet Resorts Shelby Township, we understand that each breed has its own unique coat type and care routine. That is why we tailor our services to meet the specific needs of every dog that walks through our door.
Whether your dog has long hair that needs regular trimming or a short coat that requires minimal upkeep, we have the expertise to provide customized grooming services that leave your pet looking and feeling their best.
Our grooming experts are highly skilled and experienced in handling every breed of dog, from petite Chihuahuas to husky Saint Bernards. We take the time to get to know your dog and work with them to ensure that they are comfortable and relaxed during their grooming experience.
How often do dogs need grooming?
Grooming is an important part of dog health, just like regular trips to the vet. How often your dog should be groomed depends on its breed and lifestyle. Dogs that often play outdoors need more frequent grooming as they can bring in dirt and debris that can lead to skin infections or matted fur.
Generally speaking, show dogs benefit from professional groomers every 4-6 weeks, while other dogs' needs are best met with a bath once every 3 months and brushing or combing weekly or biweekly. Seasonal baths may be sufficient for some breeds with fewer shedding coats. As always, consult with your vet or groomer to determine the right schedule for your four-legged friend.
Specialized Dog Training Near You
At All American Pet Resorts Shelby Township, we provide expert training services for your furry friend. Training your dog is not just about teaching them basic obedience commands, it's about creating a positive and healthy relationship between you and your dog. Our dog training services are designed to help improve your dog's behavior, socialization, and overall well-being.
We understand that every pet has unique needs and requirements. Our team of experts uses positive reinforcement techniques to help your furry friend learn new commands alongside reinforcing good behavior.
In addition to basic obedience, we also offer specialized training services for dogs with behavioral issues. Our team of experts can help your dog overcome problems such as aggression, separation anxiety, and excessive barking. With our help, you can transform your furry friend into a well-behaved and calm pet.
Everything we do reflects our commitment to you and your best friend. Schedule your stay today by calling us at (586) 400-2727 or by reaching out online.

Continue ReadingRead Less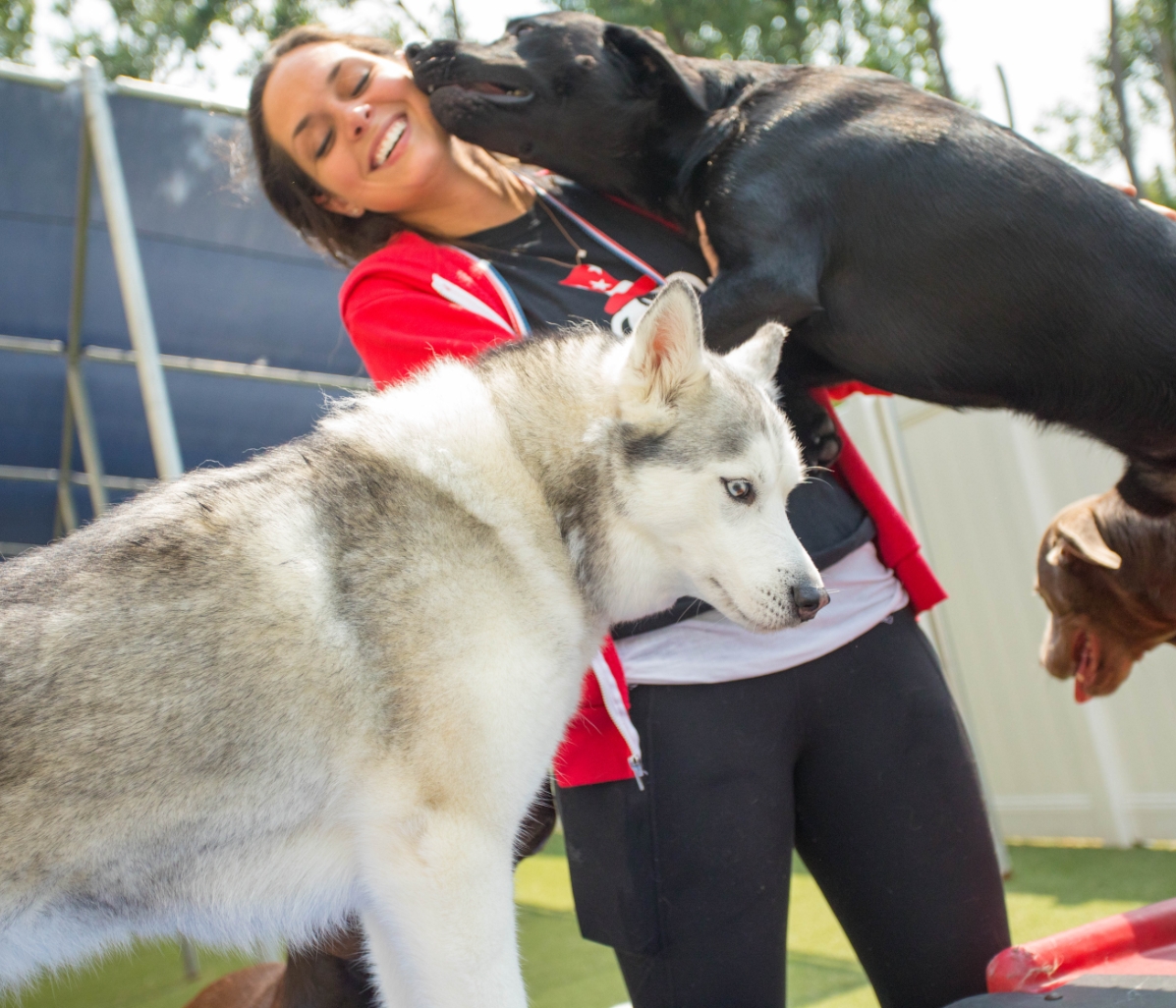 The All American Difference
Separation Without the Anxiety
24/7/365 Care

Feel confident that your pup is safe and secure and has continual access to the care they deserve.

Cage-Free Boarding

Take heart in knowing that your dog has a cozy place to sleep and will be treated like family.

Personal Attention

Never worry while you're away! Our Pet Care Specialists step in to ensure your dog feels loved and secure.

Specialized Sanitation

Relax knowing that we use advanced cleaning processes to guarantee a healthy, comfortable stay.

Webcams

Gain peace of mind by staying connected to your pup and witnessing our top-notch care - no matter where you are.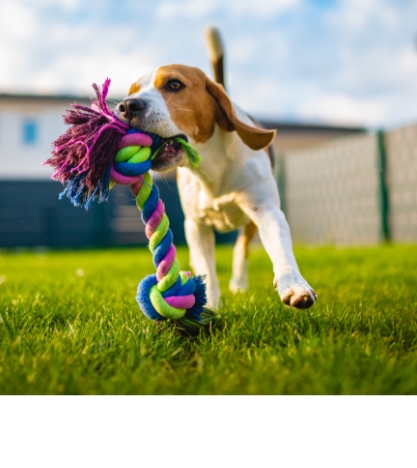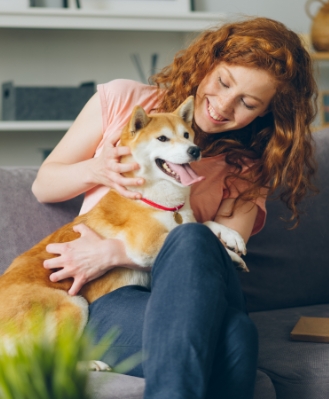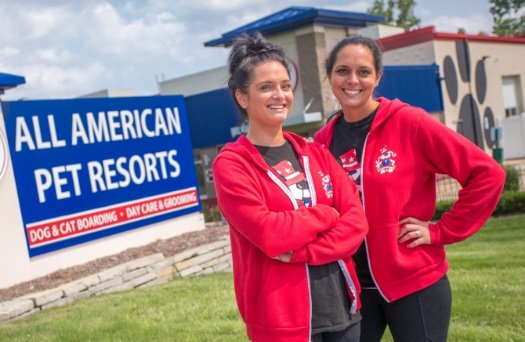 If Your Dog Can't Be With You,
Make Sure

They're With Us
"I've been to several dog daycare/boarding facilities in the metro Detroit area. In my opinion this is the cleanest, best maintained and well updated facility I have seen. Of course it is brand new, but I've walked through and met the owners who"

Enzo C.

"I highly recommend the All American Pet Resort on 26 and mound. It was clean and everyone was professional and courteous."

Brittany S.

"Amazing staff, very nice and cheerful… would definitely recommend this location!!"

Marcus F.
Setting the Standard For
Premium Dog Care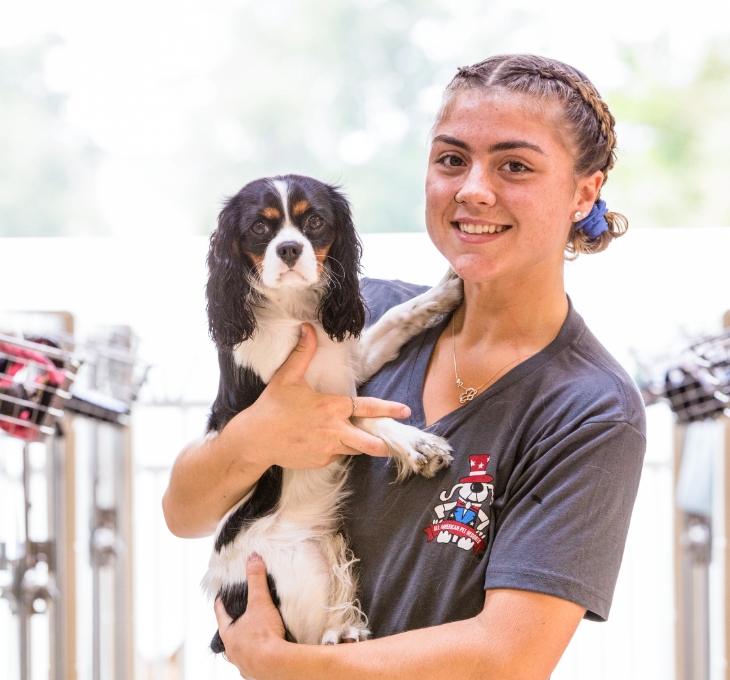 Our resort has limited space, so make sure to book your pet's stay early. All American Pet Resorts Shelby Township also offers free tours of our facilities and complimentary pet evaluations, both of which we recommend to ensure the best experience for pet parents and guests.
About Shelby Township
Shelby Township is home to 80,005 permanent residents, and its history goes back to its founding on April 12, 1827, when the Michigan Territorial Legislature organized it as a charter township in Macomb County. Shelby Township consists of four unincorporated communities: Preston Corners, Shelby, Shelby Village, and Yates. Many businesses here are members of the Macomb County Chamber of Commerce, and there's a lot do and explore throughout the township. A few things people tend to enjoy most are visiting Stony Creek Metropark, the historic Packard Proving Grounds, and various wineries found throughout the area. We love Shelby Township and can see why so many residents and visitors do, too!
Contact our Shelby Township Pet Care Specialists at (586) 400-2727today to learn more!